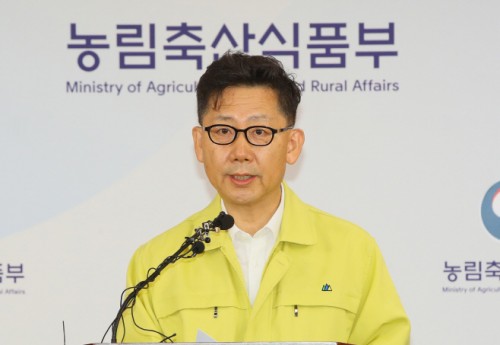 Agriculture Minister Kim Hyeon-soo announces the country's first outbreak of African swine fever during a press conference at the Government Complex Sejong on Sept. 17, 2019./ Source: Yonhap News
By AsiaToday reporter Lee Ji-hoon
South Korea on Tuesday reported its first confirmed case of African swine fever (ASF), a deadly disease having up to 100 percent mortality rates for the livestock. The government raised its animal disease alert to the highest level and ordered a movement ban on all pig farms nationwide in order to curb the spread of the disease.
The Minister of Agriculture, Food and Rural Affairs announced that the first case was confirmed at 6:30 a.m. at a pig farm in Paju, Gyeonggi Province.
"It has been confirmed that two dead pigs from a pig farm in Paju are ASF-positive," Agriculture Minister Kim Hyeon-soo said. "We have sent an epidemiological investigation team to find out the exact cause of the outbreak."
African swine fever, also called "pig plague," is deadly to domestic and wild pig species since there are no vaccines or known cures for it. Last year, it spread to neighboring Asian countries, such as China and Vietnam. North Korea also confirmed cases of the disease in May.
According to Gyeonggi Province, the authorities culled 2,450 pigs at the infected farm, along with an additional 2,250 at two nearby farms run by the owner's family.
The ministry raised the alert to the highest level and ordered a 48-hour movement ban on all pig farms, slaughterhouses, and feed factories nationwide as of 6:40 a.m. In addition, farms and delivery services in Gyeonggi Province have been barred from transporting pigs to other cities or provinces for a week.
In addition, the ministry sent six quarantine officials to control access to the infected pig farm while setting up base sterilization facilities and control posts to strengthen disinfection measures for livestock vehicles.
The ministry plans to disinfect 6,300 pig farms across the country.