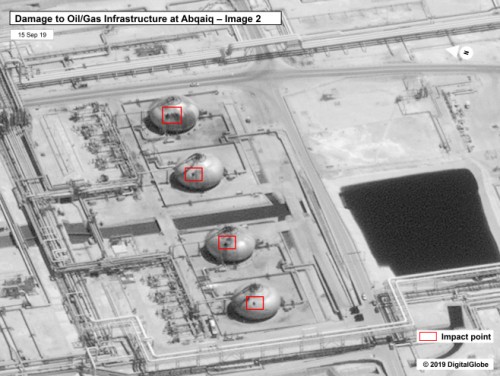 US President Donald Trump said Sunday that his country was ready to respond to drone attacks on Aramco's major oil plants in Saudi Arabia, raising the risk of military conflict in the Middle East. This image provided on Sunday, Sept. 15, 2019, shows damage to the infrastructure at Saudi Aramco's oil processing facility in Buqyaq, Saudi Arabia./ Source: U.S. government/Digital Globe AP=Yonhap News
By Washington correspondent Ha Man-joo & AsiaToday reporter Jung Ah-reum
US President Donald Trump said Sunday that his country was ready to respond to drone attacks on Aramco's major oil plants in Saudi Arabia, raising the risk of military conflict in the Middle East.
"There is reason to believe that we know the culprit, are locked and loaded depending on verification," Trump said on Twitter.
Aramco's two largest oil facilities were attacked by drones on Saturday, knocking out half of Saudi's crude output. Aramco said the attack had cut output by 5.7 million barrels per day, more than 5% of global crude supply.
"[We] are waiting to hear from the Kingdom [of Saudi Arabia] as to who they believe was the cause of this attack and under what terms we would proceed," Trump tweeted. This suggests that although the United States is ready to take military action, it would wait until Saudi confirms the culprit of the drone attacks and comes up with countermeasures.
The international oil price may spike to as high as $100 per barrel if Saudi Arabia fails to quickly resume oil supply lost, according to Reuters report. Greg Newman, co-CEO of Onyx Commodities, said the market could see a return to $100 per barrel if the issue cannot be resolved in the short term.
Trump's tweet that he had "authorized the release of oil from the Strategic Petroleum Reserve" is aimed at preventing an international oil price hike.
While most experts agree that prices will spike initially however, Reuters said the duration of the outage is key. Saudi Arabia is likely to restart a significant volume of the halted oil production within days, though a full resumption may take weeks, according to the report.
International oil prices rose sharply in the wake of the Saudi drone attack on Monday. Brent crude oil, the international benchmark, jumped more than 19% to $71.95 a barrel, its biggest gain in percentage terms since 1991. On the New York Mercantile Exchange, West Texas Intermediate futures were frozen for about two minutes after the scale of the move delayed the market open. When it began trading, WTI jumped more than 15% to $63.34 a barrel, according to CNBC.