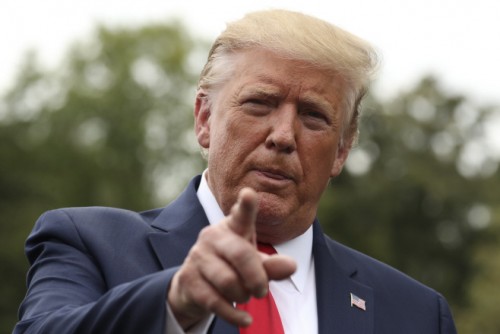 North Korea said Monday that the country is willing to resume denuclearization talks with the United States in late September. U.S. President Donald Trump called the North's announcement "interesting" and emphasized his willingness to talk with North Korean leader Kim Jong-un, saying, "I always say having meetings is a good thing, not a bad thing."/ Source: Yonhap News
By AsiaToday reporter Lee Seok-jong & Washington correspondent Ha Man-joo
Attention now turns to whether denuclearization negotiations between Pyongyang and Washington will resume in late September. North Korea's First Vice Foreign Minister Choe Son-hui said Monday that the country is willing to resume denuclearization talks with the United States in late September.
The US State Department responded cautiously, saying, "We don't have any meetings to announce this time." However, a working-level negotiations between the two countries are likely to take place as Washington has consistently urged Pyongyang to return to talks.
It is noteworthy whether the working-level talks between the United States and North Korea will lead to substantial progress in denuclearizing the North and improving inter-Korean relations.
In a statement carried by state media, Choe said, "We have willingness to sit with the U.S. side for comprehensive discussions of the issues we have so far taken up at the time and place to be agreed late in September."
The offer comes more than 70 days after an agreement between U.S. President Donald Trump and North Korean leader Kim Jong-un at their Panmunjom meeting on June 30 to resume working-level talks within several weeks.
However, Choe highlighted that Washington needed to come up with a new calculation method or the talks could fall apart again. "If the U.S. side fingers again the worn-out scenario which has nothing to do with the new calculation method at working-level talks to be held with so much effort, a deal between the two sides may come to an end."
U.S. President Donald Trump called the North's announcement "interesting" on Monday. "We'll see what happens," he said.
Trump emphasized his willingness to talk with North Korean leader Kim Jong-un. "My relationship is very good with Chairman Kim. And we'll see what happens. I always say having meetings is a good thing, not a bad thing," he said.
As Trump gave a positive response, working-level talks are likely to resume within this month at the earliest. If working-level talks resume, the U.S. side would be led by Special Representative for North Korea Stephen Biegun. His counterpart is expected to be former North Korean Ambassador to Vietnam Kim Myong-gil.
The U.S. has maintained its original stance in the denuclearization talks with the North, however there is much attention towards how the two sides will find the right balance between them with the North urging for a "new calculation method." Considering the fact that Biegun has stressed a "flexible attitude" several times, the two sides might coordinate each other's solutions in the working-level talks.
In Seoul, South Korea's chief nuclear envoy Lee Do-hoon discussed the latest developments with his U.S. counterpart Stephen Biegun over the phone on Tuesday. Lee reportedly plans to meet Biegun in Washington next week in order to pre-arrange working-level negotiations between Washington and Pyongyang.