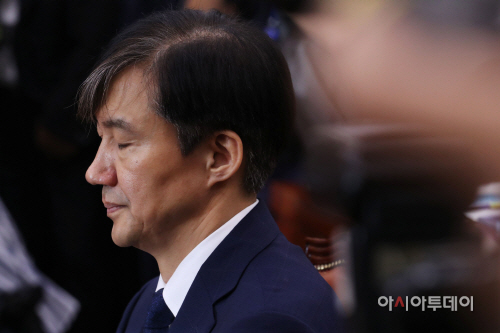 Justice Minister nominee Cho Kuk/ Photographed by Lee Byung-hwa
By AsiaToday reporters Lim Yoo-jin & Hong Sun-mi
It is noteworthy what decision President Moon Jae-in will make as he continues his deliberation on the appointment of justice minister nominee Cho Kuk on Sunday. The rival parties held an emergency meeting to discuss countermeasures.
The president is reportedly grappling with this issue for now. Two days have passed since June 6, the legal deadline by which the parliament should send a confirmation hearing report on the justice minister nominee to Cheong Wa Dae. As soon as he returned from the trip, the president received a comprehensive briefing from officials on the suspicions and clarifications of the nominee and the prosecution's indictment of Cho's wife while paying sharp attention to the tide of public opinion.
For now, the prevailing forecast is that the president will soon announce the appointment of the justice minister nominee. Considering the fact that a Cabinet meeting chaired by the president is held on Tuesday, Moon is likely to announce the appointment on Monday.
While many observers say that Moon will go ahead with the appointment, the prosecution's indictment Friday night of the nominee's wife has put the president in quandary. The president is likely to have more time to mull over the issue since his appointment could spark a clash between the presidential office and the prosecution. Whatever decision the president makes, he is expected to bear a greater political burden in the future.
In the politics, various scenarios are emerging, such as appointing or withdrawing the nominee or delaying the appointment after Cho carrying out the judicial reform. If Moon goes ahead with the appointment, he might face fierce criticism from the public and his plan to reform the prosecution may slow down since prosecution investigation is underway for the nominee. However, it is also difficult for the president to withdraw nomination. Since the original purpose of Cho's appointment was to reform the prosecution, the Moon administration itself could be shaken if Cho fails to become a justice minister. Delaying the appointment after the judicial reform can put the pressure on the Moon administration since Cho is under investigation. For these reasons, many suggest that the appointment could be delayed further.
Political confrontation on Cho's appointment is also intensifying. The ruling Democratic Party (DP) delivered opinions of the top members to Cheong Wa Dae after holding a private meeting chaired by DP chairman Lee Hae-chan. In response, the main opposition Liberty Korea Party (LKP) held an emergency meeting with members of Cho's personnel verification team. "No matter how strict the prosecution is, how could they proceed with the investigation fairly of a justice minister and his wife?" said LKP leader Hwang Kyo-ahn. "We have no choice but to carry out a special investigation and inspection of the administration the moment when Cho Kuk is appointed as a justice minister."