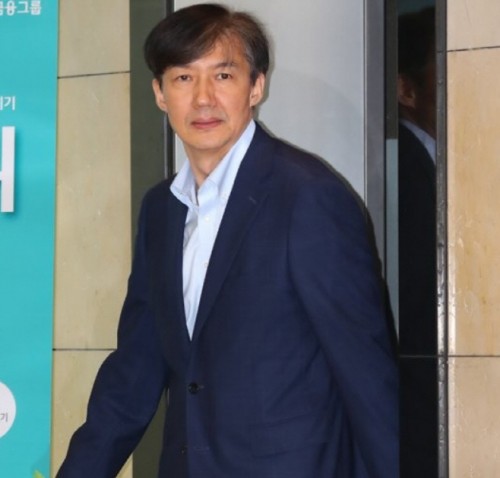 Justice Minister nominee Cho Kuk/ Source: Yonhap
By AsiaToday reporter Lim Yoo-jin
The parliamentary confirmation hearing for justice minister nominee Cho Kuk will begin on Friday at 10 am. As the hearing will be finally held 24 days after a request for a hearing was submitted to the National Assembly, the ruling and the opposition parties will have the last chance to verify Cho's qualifications for the post.
The parliamentary legislation committee held a plenary meeting on Thursday and decided to adopt a proposal for the implementation of the confirmation hearing on Cho. The committee also voted on the demand for hearing documents and the adoption of witnesses.
A total of 11 people will be called in as witnesses for the hearing. Four witnesses were requested by the ruling Democratic Party (DP), including Professor Yun Sun-jin of Seoul National University's Graduate School of Environmental Studies and Busan Medical Center Director Roh Hwan-jung.
Seven witnesses were requested by the main opposition Liberty Korea Party (LKP), including Professor Chang Young-pyo of Dankook University's Department of Medical Science, CEO of Wellscnt, identified by the surname Choi, and a board member from Woongdong School Foundation, identified by the surname Kim.
Witnesses are not obliged to attend the hearing however, since they must be given at least five days' notice in advance by law. Meanwhile, Dongyang University Dean Choi Sung-hae, who may be linked to the latest allegations of falsified document submission made against Cho's daughter, was not included in the list of witnesses. The LKP proposed to adopt Choi as a witness, but the DP refused it.
Regarding his daughter's allegations of falsifying a certificate, Cho told reporters that he is checking facts and would explain everything at his confirmation hearing. "We do not have much time until the hearing set for tomorrow, but I will clarify the allegations that were raised by the media after the press conference," Cho said.
Rival parties are gearing up for the confirmation hearing. The LKP sees the hearing as the last chance to prevent the appointment of Cho. On the other hand, the DP is trying to block the opposition's false facts by focusing on fact-checking. Concerned about possible public criticism that the DP is defending Cho, the ruling party will consider the hearing as a chance for the nominee to eliminate the suspicions by himself.
The hearing is expected to deal with corruption allegations involving Cho's family, including that his daughter received preferential treatment in entering elite colleges and that that his family made a dubious investment in a private equity fund. In addition, Cho's wife, a professor at Dongyang University, faces allegations that she forged a certificate for their daughter under the name of the university dean without his knowledge. It has been confirmed that Cho's wife, surnamed Chung, made a phone call to the dean.