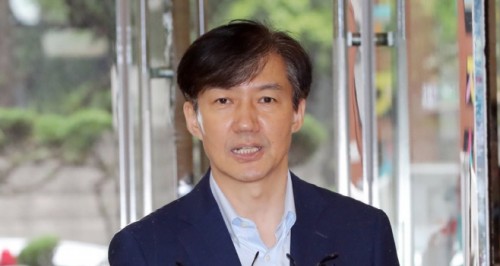 Justice Minister nominee Cho Kuk/ Source: Yonhap
By AsiaToday reporter Lim Yoo-jin
The ruling and main opposition parties agreed to hold a parliamentary confirmation hearing of Justice Minister Nominee Cho Kuk on Friday. In response, Cho Kuk said, "I will explain more details at the hearing," and the Cheong Wa Dae said, "Though belated, it is a relief that the confirmation hearing will be held."
Democratic Party (DP) floor leader Lee In-young and Liberty Korea Party (LKP) counterpart Na Kyoung-won held a meeting Wednesday at the National Assembly where they reached a dramatic agreement to hold the confirmation hearing on Friday, the deadline for a confirmation hearing report on Cho requested by President Moon. The rival parties agreed not to summon Cho's family members to the hearing, and to hold the hearing for one day.
The two parties clashed over the date of a confirmation hearing for the nominee and witnesses to be summoned. However, both parties seemed to be under pressure over appointing a justice minister nominee without a confirmation hearing.
The DP was feeling pressure because they could not secure procedural justification if Cho was appointed as justice minister. As the LKP also faced with criticism for not being responsible to verify nominees through a confirmation hearing, the opposition party seems to have agreed to hold a confirmation hearing.
"We have agreed not to summon family witnesses," the DP floor leader told reporters after reaching a deal. "The legal deadline for summoning witnesses has passed. We will be proceeding with the confirmation hearing without witnesses," he added.
"We had many differences, but based on our judgment that it is right to fulfill the parliament's duty, we have agreed to hold Cho's confirmation hearing on Friday," the LKP floor leader said.
As a result, the parliamentary legislation and judiciary committee convened to discuss the hearing procedures late Wednesday.
However, the minor opposition Bareunmirae Party strongly opposed the agreement of the parties. "Democratic Party and Liberty Korea Party have reached an agreement to hold a witness-less hearing, decided on an absurd schedule," the party's floor leader Oh Shin-hwan said.
On the other hand, Cheong Wa Dae welcomed the agreement. "It is a relief that the confirmation hearing on Cho Kuk will be held," Yoon Do-han, senior presidential secretary for public communication, said.
"Cho explained the previous suspicions at the press conference," Yoon said. "If you watched directly, you would know that most of the suspicions raised by the media and opposition parties were not true."
"However, if you did not watch the press conference and heard reports distorting the contents of the press conference would not be able to eliminate all the doubts. We anticipate that Cho will clearly explain all the allegations as well as those raised after the press conference at the confirmation hearing," Yoon said.