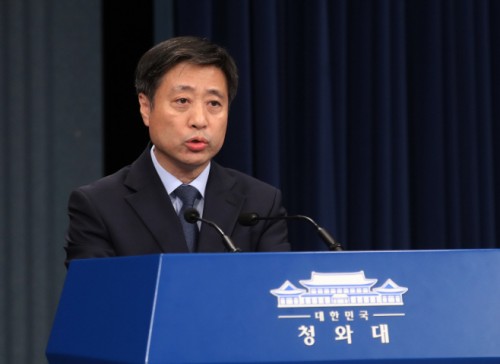 Yoon Do-han, senior presidential secretary for public communication, holds a press briefing at Cheong Wa Dae in Seoul on Sept. 3, 2019, to announce that President Moon Jae-in requested the National Assembly to send a confirmation hearing report on Cho Kuk, the justice minister nominee, by Friday./ Source: Yonhap News
By AsiaToday reporters Hong Sun-mi & Lim Yoo-jin
Cheong Wa Dae on Tuesday has requested a National Assembly confirmation hearing report on Justice Minister Nominee Cho Kuk, worsening the political situation.
President Moon Jae-in requested a National Assembly confirmation hearing report on Cho by Friday
"President Moon has asked the Assembly to deliver the report on Cho and Han Sang-hyeok, the nominee for the head of the Korea Communications Commission, and six other nominees subject to an Assembly confirmation hearing by Sept. 6," senior presidential secretary for public communication Yoon Do-han said during a briefing. "The president will decide on the appointment when he returns from his three-nation Southeast Asia tour on Friday."
Yoon explained that the presidential office gave four days from Sept. 3-6 to the Assembly for the confirmation hearing report since the president returns to Seoul on Friday, Sept. 6. "The president will return to Cheong Wa Dae by the evening and review the confirmation hearing report to make a final decision."
Friday is the deadline by which the parliament should send such a report to Cheong Wa Dae. Starting Saturday, the president can appoint Cho. Cheong Wa Dae's move indicates that the president is likely to appoint Cho regardless of the Assembly report.
However, the main opposition Liberty Korea Party (LKP) hinted at making an important decision if Cho was appointed, intensifying political tensions. The opposition strongly criticized Cho's press conference, calling it an "unprecedented press conference held at the request of the nominee."
The LKP held a press conference to desperately oppose Cho's appointment. "The LKP called for a hearing to be held five days later, but Cheong Wa Dae set a deadline for Friday. This shows that Cheong Wa Dae will push ahead with the appointment without a confirmation hearing," said LKP floor leader Na Kyung-won.
"Only one or two days are left. Cheong Wa Dae seems to push ahead with the appointment," Na said. "It is so deplorable. We cannot help making an important decision."
Kim Hyun-ah, a spokeswoman of the LKP, said that Cheong Wa Dae is pushing ahead with Cho's appointment according to the previously made scenario while ignoring the confirmation hearing process of the National Assembly.