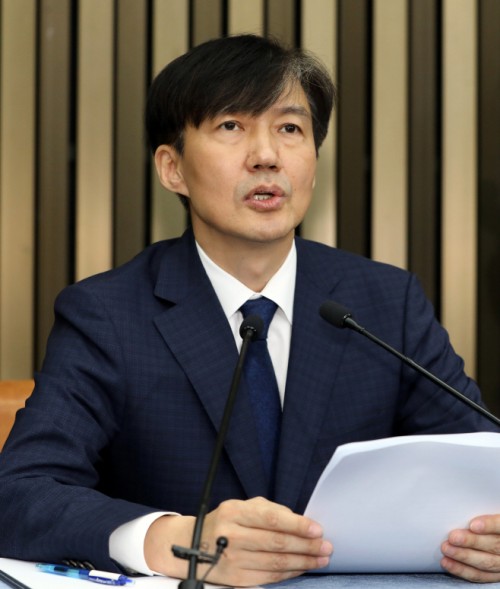 Justice Minister Nominee Cho Kuk holds a press conference at the National Assembly on Sept. 1, 2019./ Photographed by Lee Byung-hwa
By AsiaToday reporter Lim Yoo-jin
Justice Minister Nominee Cho Kuk denied allegations involving his daughter and investment in a private equity fund (PEF) while apologizing to the public for not being strict toward his family, in a press conference held at the National Assembly on Monday.
"The most regrettable thing is the fact that the current controversy arose from my words and behavior," Cho said. "I advocated reform and progress, but I wasn't strict enough."
"I caused deep disappointment to the younger generation. I apologize to the students and the people aside from legal controversy," he said.
The nominee denied allegations over the PEF investment by his family. "After becoming a senior presidential secretary for civil affairs, I heard that it was not a good idea to hold single stocks. So I asked a formal question if I should invest in fund, and was told that I was allowed to make fund investment."
"Obviously, my wife and I did not know about whatever the makeup of the PEF and its operation are, so we were not involved in the PEF-related operation," Cho said.
Regarding a pathology paper where his daughter was listed as a primary writer, the nominee said, "I did not know the detailed process at that time, and I've come to identify the allegation during the recent verification process." Cho said that there were no irregularities regarding the internships and scholarships that have become the center of controversy over suspicions of preferential treatment.
"I thought it was a bit strange that my daughter was listed as the first writer for the paper," he said. "By then, it seems that standards in judging who the primary or secondary writer is was ambiguous or granting that status hinged on a professor in charge."
Regarding prosecution investigation into himself and his family, he said, "Prosecutor-General Yoon Seok-youl will conduct investigations in accordance with the law and based on evidence. If I'm appointed as the justice minister, I will order the prosecution not to report to me the progress over the investigation into my family."
While Cho announced his intention to clear all the suspicions by holding a press conference, the presidential office is planning to request the National Assembly to resend the confirmation hearing report Tuesday in order to appoint Cho as the justice minister.
The ruling and opposition parties failed to narrow their differences on Cho's press conference.
The main opposition Liberty Korea Party claimed that a confirmation hearing should be held in accordance with the law even if Cho held a press conference.