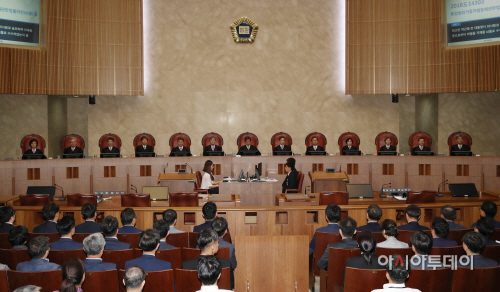 The Supreme Court hands down the final verdict on former President Park Geun-hye, her confidante Choi Soon-sil, and Samsung heir Lee Jae-yong over a massive corruption scandal on Aug. 29, 2019./ Source: Joint Press Corps
By AsiaToday reporter Heo Gyeong-joon
The Supreme Court on Thursday ordered retrials for former President Park Geun-hye, Park's confidante Choi Soon-sil, and Samsung Electronics Vice Chairman Lee Jae-yong.
The top court sent a corruption case involving former President Park Geun-hye, her friend Choi Soon-sil and Samsung Group heir Lee Jae-yong to the Seoul High Court, nullifying the lower court's rulings that sentenced Park, Choi and Lee to 25 years in prison, 20 years in prison, and a two-and-half year suspended prison term, respectively.
The top court ruled that the ruling in Park's appeal trial was unlawful as the lower court had not considered the bribery charge separately from other crimes of which she was convicted, violating the Public Official Election Act.
The Public Official Election Act requires that bribery charges be sentenced separately from other crime charges when a president or other elected officials face multiple criminal charges.
"When incumbent or former presidents face multiple criminal charges, courts must rule separately on bribery accusations," the Supreme Court said. "The court rejects the original verdict and returns the case to an appeal court for a retrial."
The top court also judged that Samsung's 1.6 billion-won donation to a sports foundation run by the Choi family was part of bribes in relation to Lee's management succession from his father Lee Kun-hee. The court also ruled that three horses worth 3.4 billion won gifted by Samsung to Choi's daughter, Jung Yoo-ra, constituted bribes for Park and Choi.
"Supreme Court ruling shows that the content or subject of bribery does not have to be detailed. There is sufficient room to acknowledge that the sports foundation donation is relevant to the president's duty," the top court said.
"The ownership of the horses purchased by Lee with Samsung Electronics' fund was transferred to Choi, and she continued to use the horses as she wanted. Afterwards, Choi did not need to return the horses to Samsung. Therefore the horses provided to Choi should be considered bribes," the court said.
With the Supreme Court recognizing the three horses, worth 3.4 billion won, and a 1.6 billion-won donation as bribes aimed at winning the president's favor, Lee faces the possibility of receiving a longer sentence in the retrial.
In response, Samsung Electronics released a statement saying, "We deeply regret that this case has created concerns across the society. We will renew our commitment to carrying out the role of a responsible corporate citizen and will avoid a recurrence of past mistakes."