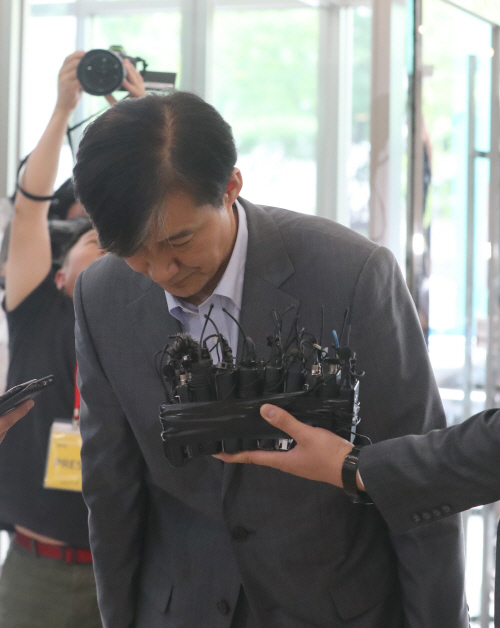 Justice minister nominee Cho Kuk/ Source: Yonhap
By AsiaToday reporters Lee Wook-jae
The prosecution began carrying out simultaneous raids on universities and other facilities linked to corruption allegations involving Justice Minister Nominee Cho Kuk and his family. Attention is focused on the outcome of the investigation amid snowballing scandals.
The Seoul Central District Prosecutors' Office sent prosecutors and inspectors to Seoul National University's (SNU) Graduate School of Environmental Studies, Pusan National University's (PNU) School of Medicine, Busan Medical Center, Korea University, Dankook University and Kongju National University. The prosecution also sent investigators to the offices of a private equity fund (PEF), in which Cho's family has made dubious hefty investments, and the Ungdong School, a private school foundation run by Cho's mother.
"This is a big public issue that draws the interest of the people. The facts need to be identified through objective data," the prosecution official said. "The raid is aimed at securing evidence to uncover the truth in a timely manner."
There have been a number of accusations against ministers and minister nominees, but this is the first time the prosecution has conducted search and seizure operations involving a justice minister nominee. In particular, observers say the raid was unexpected since it was conducted a day after the National Assembly agreed to hold a confirmation hearing on Cho on Sept. 2-3.
What's eye-catching is that the prosecution changed the department in charge to the special department from the current criminal investigation department. "We changed the department in charge in order to conduct a swift and effective investigation," the prosecution official said. Since the special department is in charge of the investigation, the prosecution is expected to carry out an intensive investigation.
The prosecution also drew lines for unnecessary misunderstandings as the investigation is being conducted against one of the closest allies of the Moon Jae-in administration. "The search and seizure operations were reported to the Ministry of Justice after a mandatory investigation began in accordance with routine procedure. This investigation has nothing to do with the prosecution reform. We hope to avoid unnecessary misunderstandings," the prosecution official said.
Based on the data analysis seized, the prosecution plans to confirm how Cho's daughter received scholarship, how she was listed as the primary author of a medical research paper, and how she was admitted to college.
Regarding private equity suspicions, prosecutors plan to conduct who owns the private equity fund and whether information obtained by Cho, when he served as senior presidential secretary for civil affairs, had an influence on the related business.