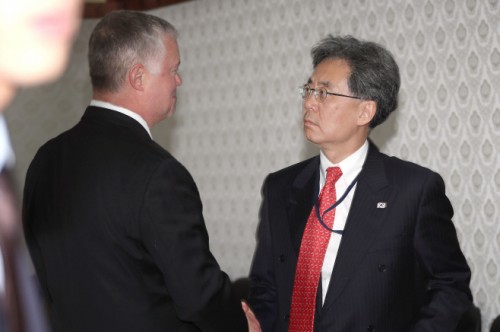 Kim Hyun-chong, deputy adviser at the presidential National Security Office, shakes hands with U.S. Special Representative for North Korea Stephen Biegun before their talks in Seoul on Aug. 22, 2019./ Source: Yonhap
By AsiaToday reporter Lee Jang-won
A dialogue mood between the United States and North Korea is cautiously optimistic. Kim Hyun-chong, deputy adviser at the presidential National Security Office, said Thursday that he got an "impression" from his talks with U.S. special envoy for North Korea Stephen Biegun that nuclear talks between Washington and Pyongyang may resume soon. Biegun had initially planned to leave Seoul on Thursday. However, he extended his trip for a day, spawning speculation that he could contact North Koreans possibly at the inter-Korean border truce village of Panmunjom.
Kim met with Biegun for more than an hour at the Seoul government office. After the meeting, Kim said, "I can't tell you the specifics (regarding the US-North Korea talks), but there's the impression that I got during my meeting with Biegun."
Regarding the nuclear negotiation process, Kim said, "Seoul and Washington have been closely cooperating. As there is trust between Representative Biegun and his counterpart Lee Do-hoon, things will go well."
Commenting on Pyongyang's recent criticism of the U.S. and South Korean governments, Kim responded, "I think things will go well," without elaborating.
When asked if there was any specific signal from Pyongyang regarding the resumption of dialogue, Kim answered, "There wasn't."
"The U.S. highly regarded South Korea's restrained response to the North's criticism to achieve the constructive goal," Kim said.
Biegun was initially planning to either return to the United States or visit Beijing after meeting with Kim, however he has reportedly decided to extend his Seoul trip for one more day. Biegun's trip extension is stirring speculation about his possible meeting with North Koreans at Panmunjom during his stay in South Korea.
Biegun was said to have engaged in negotiations with North Koreans at Panmunjom on the eve of the June 30 trilateral summit between the two Koreas and the United States without making his appearance at the official event.
While Biegun told reporters in South Korea that he and his team "are prepared to engage" as soon as they hear from their North Korean counterparts, Pyongyang ramped up its rhetoric, saying, "We are not interested in the denuclearization dialogue as long as South Korea and the United States maintain their military threats."