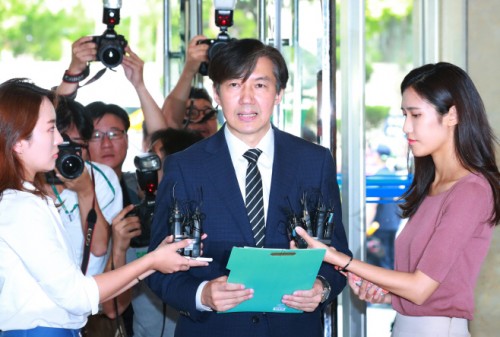 Justice Minister nominee Cho Kuk speaks to reporters over corruption and fraud allegations involving his family on Aug. 21, 2019./ Source: Yonhap News
By AsiaToday reporters Lee Seok-jong & Lim Yoo-jin
The Blue House said on Wednesday that the allegations involving Justice Minister nominee Cho Kuk would be thoroughly verified during the National Assembly's confirmation hearing. Some observers say that after confirming that many of them are not true, Cheong Wa Dae responded sternly to the suspicions involving the nominee out of concerns that Cho's possible failure to be appointed could deal a serious blow to Moon Jae-in and his drive to reform the prosecution.
"There are allegations involving Cho and his family," Yoon Do-han, senior Cheong Wa Dae secretary for public communication, told a press briefing. "Some allegations are reasonably raised, but some media outlets are exaggerating allegations. All speculation raised by the media so far will be verified. Suspicions raised by the media with insufficient evidence will be thoroughly verified during the hearing process with collected evidence and data."
Cheong Wa Dae's official announcement on the Cho Kuk controversy indicates that President Moon Jae-in will not withdraw his nomination of Cho as justice minister despite political attacks on the nominee.
Cho said he will "humbly accept" public criticism but flatly rejected the allegations about his daughter's college admission as fake news. "It is outright fake news. There was no procedural problem about her admission," Cho said.
However, the main opposition Liberty Korea Party (LKP) and the minor opposition Bareunmirae Party as well as the Party for Democracy and Peace called on President Moon Jae-in to withdraw his nomination and apologize to the public.
"Appointing a terrible figure, a breeding ground for corruption is the righteousness of the Moon Jae-in administration," LKP floor leader Na Kyung-won said. "If the Moon Jae-in administration embraces Cho, things will go downhill for them."
"President Moon Jae-in should immediately withdraw his nomination of Cho Kuk and put him on the court of justice. This is the order of the people," Bareunmirae Party lawmaker Yoo Seong-min said. "I warn that this regime will face national resistance and walk the path of downfall if the president pushes for the appointment of the nominee."
"Is Cho Kuk the only one for judicial reform in the Republic of Korea?," said Hong Sung-moon, spokesman of the Party for Democracy and Peace.