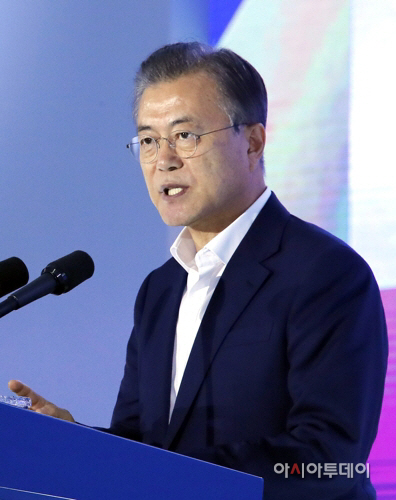 President Moon Jae-in speaks during a signing ceremony for new investment in carbon fiber held at a carbon fiber plant of Hyosung Advanced Materials Corp. in Jeonju, North Jeolla Province, August 20, 2019./ Source: Yonhap News
By AsiaToday reporters Choi Won-young & Hong Sun-mi
"Carbon fiber is a key high-tech material that serves as the root of future industries. Strong roots make you unshakable."
President Moon Jae-in made the comment while pledging all-out support to nurture carbon fiber as South Korea's new growth engine in order to catalyze the country's own production of key industrial materials. Under a program supported by the government and North Jeolla Province as well as Jeonju city, Hyosung plans to become the world's third-largest carbon fiber producer with its 1 trillion-won investment by 2028.
The president attended a signing ceremony for new investment in carbon fiber held at a carbon fiber plant of Hyosung Advanced Materials Corp. in Jeonju on Tuesday. He congratulated the investment agreement among Hyosung, North Jeolla Province and Jeonju city, and pledged to invest in R&D at the government level, establish a new carbon fiber cluster, and train nearly 9,000 professionals.
During the ceremony, Hyosung said it will invest 1 trillion won ($828 million) over the decade to expand its carbon fiber business. It plans to build nine additional carbon fiber production lines at its plant in Jeonju, North Jeolla Province, to meet rapidly growing demand for carbon fiber materials. The additional lines will increase the plant's annual capacity to 24,000 tons from the current 2,000 tons. The investment will create about 2,300 jobs by 2028, it said. North Jeolla Province and Jeonju city promised to provide administrative and financial support, such as providing subsidies and quick approvals for the investment.
Carbon fiber is a high-tech material called the 'rice of future industries', since it is one-quarter the weight of iron but ten times as strong.
"Hyosung made a bold decision with determination to stand on its own feet and lessen its dependence on high-tech materials from abroad. Its decision is expected to help not only localizing core materials, but also revitalizing the local economy and creating jobs. Today's investment agreement will serve as a starting point for South Korea's leap into becoming a high-tech material production power," Moon said. "We look forward to more private investment in the material and component industry in the future."
Moon said a carbon-based industrial complex would soon be established near Hyosung's Jeonju plant, and a carbon-based composite cluster would be created when carbon-related companies and research institutes move in. He also revealed the government's plans to heavily invest in 100 key strategic items over the next seven years.