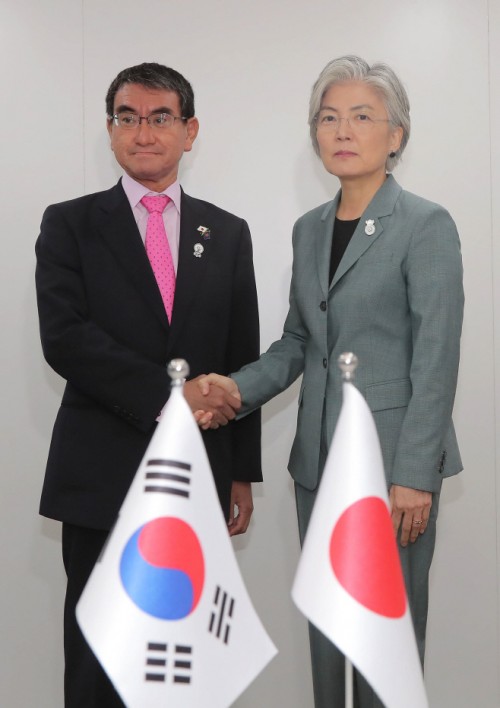 Foreign Minister Kang Kyung-wha shakes hands with her Japanese counterpart, Taro Kono, before their talks in Bangkok, on Aug. 1, 2019./ Source: Yonhap
By AsiaToday reporter Lee Jang-won
Foreign Minister Kang Kyung-wha will hold a meeting with her Japanese counterpart Taro Kono ahead of the August 24th expiration of the General Security of Military Information Agreement (GSOMIA). It remains to be seen whether the foreign ministers would create a momentum to defuse ongoing bilateral tensions by discussing the extension of the military intelligence-sharing agreement. As Seoul plans to soon decide when to conduct combined maritime defense drills on and around its islets of Dokdo, this week will be a major watershed that will determine the direction of the Korea-Japan relationship.
Japanese media outlets, including the Japan Times, reported Sunday that the South Korean and Japanese foreign ministers will hold bilateral talks in Beijing to discuss the extension of GSOMIA, on the sidelines of their participation in the planned trilateral Beijing encounter this week. "The bilateral talks are currently being coordinated. The renewal of GSOMIA will be reviewed and announced by the related ministry," a foreign ministry official said.
The GSOMIA had been automatically renewed each year in August. If either party wants to break the agreement, the party will be required to notify the other of its intention 90 days in advance. This year's notification deadline falls on Aug. 24. The Japanese government reportedly wants to extend the pact.
After Tokyo removed Seoul from its whitelist of preferred trade partner countries earlier this month, the South Korean government took a tough stance by mentioning the possibility of discarding the information accord. However the modd has changed recently. President Moon Jae-in called for a dialogue with Japan, saying Seoul will "gladly join hands if Tokyo chooses the path of dialogue" in his address on Aug. 15 to mark the end of Japanese colonial rule 74 years ago.
North Korea's sixth round of weapons launches since last month is one of the matters that both countries should consider. "A sufficient review process is necessary since both South Korea and Japan exchange information focused on North Korea's nuclear program and missiles through GSOMIA, which is directly related to security issues," a defense ministry official said.
The extension of GSOMIA is expected to have a significant impact on the trade-related measures taken by the two governments. South Korea is set to drop Japan as a preferred trading partner next month in response to Tokyo's decision to remove Seoul from its whitelist, which will become effective on August 28. Some say if both countries reach an amicable agreement over the GSOMIA extension, mutual withdrawal of trade restrictions may be possible.
Dokdo defense drill, which was under consideration to take place this month, is facing a critical moment as dialogue with Japan is being expected. Initially, the military reviewed to expand the drill size, but the exercise could be either postponed or conducted on a yearly scale. "We will definitely conduct the drill," a military official said. "The scale or the timing of the military exercise is not decided yet."