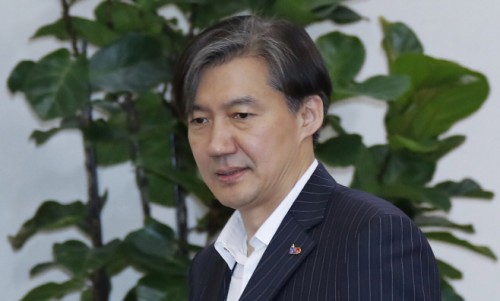 President Moon Jae-in will reportedly carry out a major Cabinet reshuffle on Friday. Cho Kuk, who served as senior presidential secretary for civil affairs until last week, is virtually confirmed as the country's next Justice Minister./ Source: Yonhap News

By AsiaToday reporter Lee Seok-jong
President Moon Jae-in will reportedly carry out a major Cabinet reshuffle ahead of his third year in office and the general election in April next year. Justice Minister Park Sang-ki, Agriculture Minister Lee Gae-ho, Gender Equality and Family Minister Jin Sun-mee, and Science and ICT Minister You Young-min are expected to be replaced. Land and Transportation Minister Kim Hyun-mee and Education Minister Yoo Eun-hye, who are expected to run for the general election, are likely to stay to resolve major pending issues.
"The Cabinet reshuffle is likely to be carried out on Friday," an official of the presidential Cheong Wa Dae said on Thursday. "The president thought hard until recently over who will stay and who will be replaced and by whom. However, it's unlikely he will postpone the reshuffle announcement," another Cheong Wa Dae official said.
Cho Kuk, who served as senior presidential secretary for civil affairs until last week, is virtually confirmed as the country's next Justice Minister. If Cho is tapped as the new justice minister, he is likely to speed up Moon's push for prosecution reform along with new prosecutor-general Yoon Seok-youl and new senior presidential secretary for civil affairs Kim Jo-won.
Former deputy minister Kim Hyun-soo is likely to be named as the next agriculture minister. For gender equality and family minister, former Bupyeong-gu Office head Hong Mi-yong and former senior presidential secretary for personnel affairs Cho Hyun-ok have emerged as strong candidates. Choi Ki-young, an electrical and electronics engineering professor at Seoul National University, is the most promising candidate for the next science minister.
With Kim Sang-jo's recent appointment as the president's top policy aide, Seoul National University professor Joh Sung-wook has emerged as a leading candidate for the head of the Fair Trade Commission (FTC), which holds ministerial-grade position. Financial Services Commission (FSC) Vice Chairman Kim Yong-beom and Export-Import Bank of Korea (KEXIM) Chairman Eun Sung-soo are being considered as the next head of the Financial Services Commission (FSC) to succeed Choi Jong-ku, who recently tendered his resignation from the post. The head of the Korea Communications Commission is also likely to be replaced.
Moon Chung-in, the special advisor for unification, diplomacy and national security affairs for President Moon Jae-in, is highly likely to succeed Ambassador to the United States Cho Yoon-je. President Moon Jae-in is also likely to appoint some vice ministers in the upcoming reshuffle.
The planned reshuffle will be taking place five months after the last one in March. It is mainly intended to open a path for the candidates for next year's general election. It is also intended to set the Moon Jae-in administration up for the third year in office to speed up reforms.