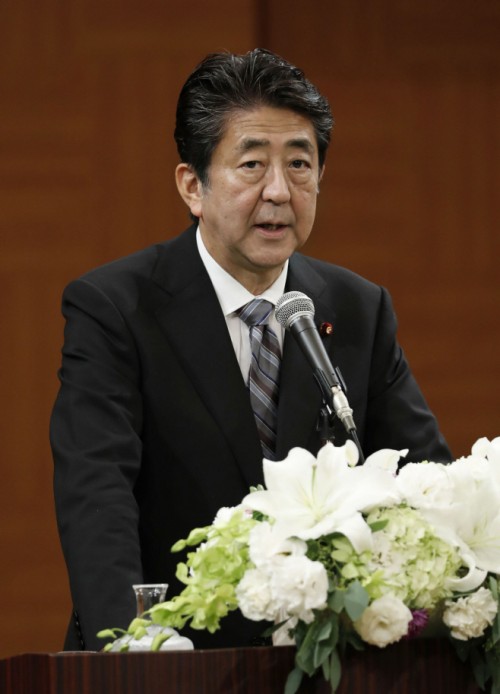 Japanese Prime Minister Shinzo Abe held a news conference in Hiroshima after attending the peace ceremony at the Hiroshima Peace Memorial Park on August 6, 2019. He said that South Korea has taken unilateral action that violates the bilateral agreement on settlement of wartime property and claims and has broken the international treaty that served as the foundation for normalization of ties."/ Source: Yonhap News
By AsiaToday Tokyo correspondent Um Soo-ah & reporters Jung Jae-ho and Lee Jang-won
The Japanese government has taken a final legal step to exclude South Korea from its whitelist of preferential trading partners. Through its official gazette on Wednesday, Japan announced a revision of its export trade control law that will remove South Korea from a list of trusted trading partners qualified for preferential treatment in export procedures. However, it did not unveil additional goods to be subject to tougher regulations when shipped to South Korea, apart from three key items needed for making semiconductors and displays.
"A part of the export trade control law will be amended to exclude South Korea from the whitelist, and the new regulations will come into effect 21 days after the promulgation," the Japanese government said in its official gazette. As a result, those items that could be used for military purposes will be subject to tougher regulations when shipped to South Korea starting on August 28. For instance, they will no longer be allowed to get general comprehensive license valid for three years. The promulgation of the amendment has been expected since the revision was approved by the Japanese Cabinet last Friday.
Along with delisting South Korea, Japan's Ministry of Economy, Trade and Industry introduced a new four-group classification system for its trade partners. Under the new system, countries on the whitelist will be classified into Group A in which Japan's regulated items benefit from an individual screening exemption if they get general comprehensive approval from Japan's trade ministry once every three years. Currently, 26 countries are on the Group A list. Japan has been allowing its trusted partners to import industrial materials under a simplified process by calling them 'white countries'.
South Korea is categorized into Group B. Those countries in the Group B list are those that meet certain requirements and the members of the four export control regimes: Nuclear Suppliers Group (NSG), Australia Group (AG), Missile Technology Control Regime (MTCR), and Wassenaar Arrangement (WA).
In addition, Japan's trade ministry also unveiled the 'comprehensive approval guide, which is the detailed enforcement rules that define items that require individual approval among some 1,100 industrial items. Apart from the three key material items needed to produce semiconductors and displays, the ministry did not specify which items would be required to get individual permission from the Japanese government. Therefore, those affected companies for now will be limited to semiconductor and display companies.
In response, South Korea's Foreign Ministry issued a statement of protest and expressed regret on Wednesday. "The Japanese government should immediately retract the unilateral and unfair measure and accept South Korea's proposal to resolve related issues through dialogue," a foreign ministry official said.
Meanwhile, Japan's Chief Cabinet Secretary Yoshihide Suga said that the measures were "not economic retaliation or countermeasures."