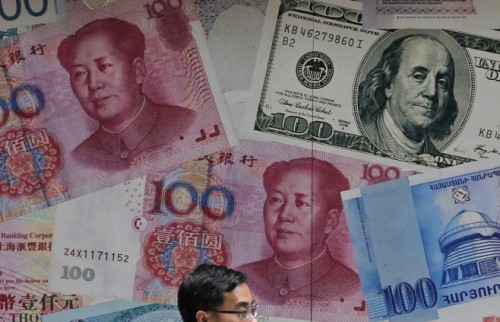 The US Treasury on Monday designated China as a currency manipulator, and the US-China trade dispute is escalating into a full-scale currency war. The image shows a Hong Kong citizen walks past a money exchange shop decorated with different banknotes at a business district of Hong Kong on June 10, 2019./ Source: Hong Kong AP=Yonhap News
By AsiaToday Washington correspondent Ha Man-joo
The US Treasury on Monday designated China as a currency manipulator, and the US-China trade dispute is escalating into a full-scale currency war. "Under the auspices of President Trump, Secretary Mnuchin has today determined that China is a Currency Manipulator," US Treasury Secretary Steven Mnuchin said in a release. As a result, stock indexes from New York to Shanghai plunged on Tuesday.
The US Treasury's move comes after China's currency broke through the psychologically important level of 7 yuan to the dollar on Monday. The yuan weakened beyond 7 against the US dollar for the first time since May 2008, just before the global financial crisis.
The US believes the Chinese government allowed the yuan's depreciation in an attempt to offset the impact of higher tariffs on Chinese imports coming in to America. "In recent days, China has taken concrete steps to devalue its currency," Secretary Mnuchin said. "China has a long history of facilitating an undervalued currency through protracted, large-scale intervention in the foreign exchange market," he added. US President Donald Trump took to Twitter to criticize China's move. "China dropped the price of their currency to an almost a historic low. It's called 'currency manipulation,'" Trump said in a tweet.
Following the US Treasury's action, China's commerce ministry and the country's economic planner, the National Development and Reform Commission, issued an online statement on Tuesday, saying, "Chinese companies halted purchases of American agricultural produces."
The New York Times reported, "The trade war between the United States and China entered a more dangerous phase on Monday, as Beijing allowed its currency to weaken, Chinese enterprises stopped making new purchases of American farm goods and President Trump's Treasury Department formally labeled China a currency manipulator."
As a result, the truce in the trade war that was agreed by Trump and Chinese President Xi Jinping on the sidelines of the June G-20 summit in Japan came to an end after nearly a month.
Global markets suffered sharp falls due to the dramatic escalation of trade tensions between the world's two largest economies. Investors sold risk assets, such as stocks and crude oil, in the US market while flocking to assets viewed as safe, such as government bonds, the US dollar and gold.
The Dow Jones industrial average slid 2.9%, or 767.27 points, to 25,717.74. The S&P 500 dropped 2.98%, or 87.31 points, to 2,844.74. The Nasdaq composite sank 3.5%, or 278.03 points, to 7,726.04. All the three major US stocks had their biggest loss of the year Monday.