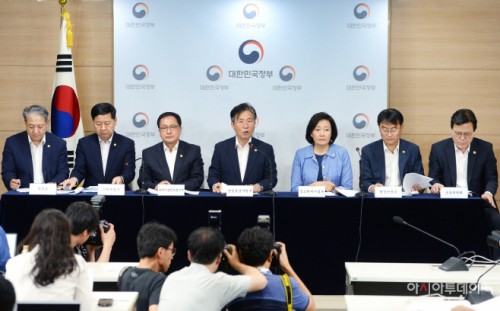 Trade minister Sung Yun-mo announced measures to strengthen the competitiveness of materials, parts and equipment in a joint briefing with related ministries at the Seoul Government Complex on August 5, 2019./ Source: Ministry of Trade, Industry and Energy
By AsiaToday reporter Choi Won-young
In response to Japan's export regulations, the South Korean government plans to raise self-sufficiency for 100 key components, materials and equipment items in the areas of six industries, including chips and automobiles, over the next five years. Despite physical growth, these industries had the limits to growth due to their high dependence on foreign countries, particularly Japan. In hopes of reducing dependence on Japan and accelerate the development of key technologies, the government decided to provide financial support and ease regulations.
The government announced measures to strengthen the competitiveness of materials, parts and equipment in a joint briefing with related ministries at the Seoul Government Complex on Monday. The measures were prepared by the Ministry of Economy and Finance, the Ministry of Trade, Industry and Energy, the Ministry of Science and ICT, the Ministry of SMEs and Startups, the Ministry of Environment, the Ministry of the Interior and Safety, and the Financial Services Commission. "We want to turn the crisis into an opportunity for the materials, parts and equipment industry," said Trade minister Sung Yun-mo.
The six major industries are semiconductors, displays, automobiles, electronics, machinery and chemicals. The government will secure supplies of the most pressing 20 items, including those subject to Japan's export curbs, within a year by reaching out suppliers from other countries and expanding local production. Supplies of the other 80 items will be secured over the next five years.
To this end, the government plans to spend 7.8 trillion won over the next seven years on research and development, and to establish an ecosystem where demanders and suppliers grow together in the long term. It will also build a powerful control tower, including the 'Competitiveness Committee, which will be headed by Deputy Prime Minister Hong Nam-ki.
The trade minister compared domestic industries for materials, parts and equipment to a "cormorant" as they are unpractical due to their heavy dependence on Japan. Cormorant fishing is a Japanese fishing method that uses birds to catch fish. If the bird makes a catch, it's then scooped up, and the fisher pulls the fish from the bird's mouth. The tie around the cormorant's neck ensures that big fish don't get swallowed, but allows the bird to swallow small fish. The trade minister said those South Korean industries should become more like a pelican, which raises its own chicks inside its bill, where it also keeps the food.
Even though Japan's market is small, it has a high market share in several items due to its technologies accumulated for a long time. On the other hand, South Korean market is large however it has grown focusing on products with relatively low technical difficulty. The government believes it is not easy to advance into core product markets since it takes time to accumulate technologies.
In fact, South Korea's trade deficit with Japan was $24.8 billion in 2018, of which $22.4 billion came from materials and parts industries. Besides, an adverse balance of trade is likely to happen with Japan along with the growth of advanced industries, such as rechargeable batteries. Therefore, Japan's export control is not only threatening industries but also security condition of the country.
"We will secure supply stability as soon as possible for key items that have a decisive impact on our major industry supply chain and build our own technical capabilities on strategic items so that we can compete on a par with leading players," Sung said.