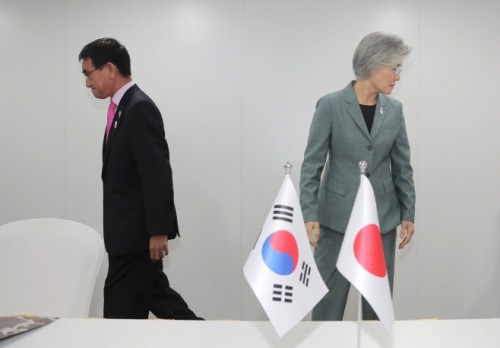 Foreign Minister Kang Kyung-wha moves in the opposition direction to her Japanese counterpart Taro Kono after a brief handshake before their meeting in Bangkok, Thursday./ Source: Yonhap News
By AsiaToday reporter Lee Jang-won
The tension between South Korea and Japan, triggered by Japan's export control measures, is getting worse.
South Korea's foreign affairs minister met with her Japanese counterpart Thursday in Bangkok, but failed to narrow their differences on Japan's trade restrictions on Seoul.
As a result, Japan is widely expected to make a decision this Friday to drop Seoul from its whitelist of countries that get preferential trade conditions. The South Korean government warned that it will take all possible measures to deal with Japan's move, which could further escalate tensions between the countries.
Foreign Minister Kang Kyung-wha held talks with her Japanese counterpart, Taro Kono, and strongly urged Japan to withdraw its economic retaliatory measures and put off its plan to remove South Korea from its whitelist of trusted trade partners. The meeting of foreign ministers was held for the first time since Japan imposed tighter restrictions on exports of three high-tech materials vital to the manufacturing of semiconductors and displays on July 4.
After the 45-minute bilateral meeting, an official at Seoul's foreign ministry said that there "did not appear to be any big change" in Tokyo's position over the ongoing trade row. It suggests that the talks ended with little progress to turn the situation around.
During the meeting, Japan did not make it clear that it would remove South Korea from the whitelist. However, the South Korean government believes that Japan is highly likely to revise an export control ordinance at a Cabinet meeting Friday to remove South Korea from its whitelist.
"If Japan makes a decision at a Cabinet meeting, we will have to take necessary countermeasures," Kang said. "Japan has taken the export control measure, citing security reasons. We cannot help but review various frameworks of security cooperation between South Korea and Japan," she added.
When asked whether she was referring to a review of the General Security of Military Information Agreement (GSOMIA), she responded, "We talked about the possibility that the framework of security cooperation between South Korea and Japan could be affected."
However, Kang hinted that the dialogue between the two countries would not end, stating, "If countries have problems, they should seek a solution through consultations, and I clearly said that there needs to be time and room for us to make such efforts."
Some say there is a need to find a turning point in trilateral talks among foreign ministers of South Korea, the United States and Japan to be held on Friday.
As the foreign ministers' meeting ended without significant outcome, the South Korean government is expected to use the ASEAN Regional Forum to point out Japan's economic retaliatory steps are unfair and to let the international community know that these measures must be stopped. As Japan is widely expected to strip South Korea of its whitelist, the government needs to come out with practical measures to mitigate the impact on the national economy.