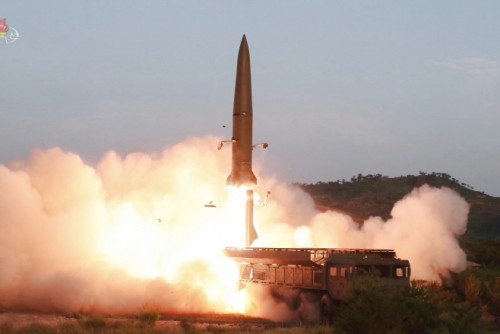 North Korea launched two short-range ballistic missiles off its east coast on Wednesday, its second test in less than a week. Experts described the series of launches as a negotiating tactic to take the initiative in the upcoming denuclearization talks with the United States. The photo shows an image from North Korea's state television channel of a new tactical guided weapon (short-range ballistic missile) fired on July 26, 2019./ Source: Yonhap News
By AsiaToday reporters Lee Seok-jong & Woo Sung-min
North Korea launched short-range ballistic missiles again on Wednesday. The launch comes six days after it fired two "KN-23", or the North Korean version of Russia's Iskander ballistic missile.
In response to the missiles, the presidential office Cheong Wa Dae expressed strong concerns that the latest firing could have a negative influence on the efforts to establish peace on the Korean Peninsula. South Korea's Joint Chiefs of Staff (JCS) is analyzing more details while estimating the North's latest firing as a missile test of for Iskander-class missile development.
Experts described the series of launches as a negotiating tactic to take the initiative in the upcoming denuclearization talks with the United States. They are also designed to express its dissatisfaction over upcoming U.S.-South Korea military drills and South Korea's introduction of advanced weapons, and to appeal to hardliners in North Korea.
"Our army detected two ballistic missiles from the Kalma area near the North's eastern port of Wonsan, northeast into the East Sea, at 5:06 am and 5:27 am," the JCS said.
The missiles both are estimated to have flown about 250 kilometers at an approximate altitude of 30 kilometers, the JCS said, adding that both of them were fired from a transporter erector launcher.
The first missile launch was detected by the Master Control and Reporting Center (MCRC) and the Aegis Combat System. The second one was observed by both of them as well as the ballistic missile early warning system.
The South Korean military authorities had been reportedly monitoring and detecting all signs of the missile launches.
"The exact data is being analyzed by intelligence authorities of Seoul and Washington," the JCS said. "The South Korean military is on guard against additional launches and is maintaining a defense readiness posture."
"North Korea's series of launches do not help ease tensions on the Korean Peninsula," the JCS said. "We call on North Korea to stop firing missiles."
Cheong Wa Dae also called a National Security Council, presided over by National Security Director Chung Eui-yong, and said, "We express strong concerns that North Korea firing two short-range ballistic missiles could have a negative influence on the efforts to establish peace on the Korean Peninsula."