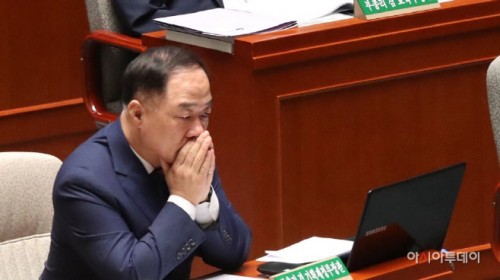 Deputy Prime Minister and Finance Minister Hong Nam-ki/ Source: Yonhap News

By AsiaToday reporter Yoo Jae-hee
The extra budget bill is still pending in parliament due to a political confrontation between liberal and conservative parties. Concerns are rising as getting the long-pending multi-trillion won extra budget bill passed at the National Assembly is urgent to deal with negative growth and cope with Japan's export curbs.
According to the Ministry of Economy and Finance on Sunday, the National Assembly's special budget committee kicked off this month its review of the government's extra budget bill that includes budget to counteract Japan's export restrictions. However, the review was completely suspended on July 22 as the opposition party posed a problem to the government. As of Sunday, the bill is pending in parliament for the 95th day. If it is not passed at the National Assembly until August 10, it will be pending in parliament for the longest time in 19 years.
Earlier in April, the government drew up an extra budget of 6.7 trillion won stressing the need of expanded financing to boost the economy. In an effort to respond to economic downside risks and alleviate the fine dust problem, the government allocated 4.5 trillion won and 2.2 trillion won, respectively. The government expected extra budget spending would boost GDP growth by 0.1% this year.
However, as Tokyo imposed export restrictions on high-tech materials earlier this month in apparent response to Seoul's handling of a wartime forced labor issue, the South Korean government decided to include 270 billion won in an extra budget intended to support domestic technology development and commercialization of items of which the country has relied on imports from Japan.
With the delay in the parliamentary approval of the proposed extra budget, some projects are facing worst-case scenario. For instance, Korea Trade Insurance Corporation is highly likely to fail offering reimbursement for small and mid-sized shipbuilders. According to the ruling party, other projects that are at risk include the early shutdown of aged diesel vehicles, the establishment of air quality improvement device in subway stations, the establishment of air pollution prevention facilities in small-scale workplaces, and the provision of subsidy to young people to encourage employment.
Along with the extra budget bill, the government has proposed measures to respond to economic downside risks as well as Japanese export restrictions through its economic policy roadmap and tax law amendment. In particular, it proposed to reduce tax on investment in facilities improvement this year by making changes to tax laws. However, economists cast doubt on the effectiveness of the amendment since there is a limited period of time to boost the investment sentiment of companies.
There are even more pessimistic views. Some point out that the supplementary budget would not stimulate a stalled economy. "Even if the extra budget is implemented early, the effect of spurring the economy will be temporary. Besides, localizing production of components and materials that the country has imported from Japan should be seen as a long-term matter," said Park Young-bum, an economics professor at Hansung University. "If Japan implements additional restriction, South Korea's economic growth may fall below 2%. Therefore, the government should concentrate on withdrawing Japanese export curbs."