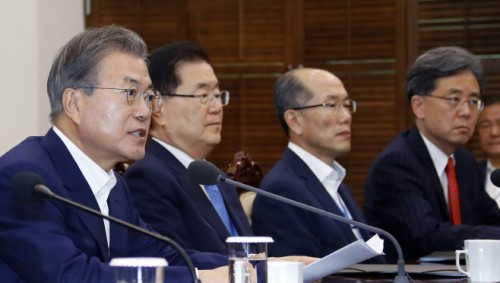 Seoul is seeking international support against Japan's export curbs. The South Korean government held a press conference on Wednesday explaining the unfairness of Japan's trade control against South Korea, to foreign reporters based in Seoul. The photo shows President Moon Jae-in speaking during a meeting with his senior Cheong Wa Dae aides on July 15, 2019./ Source: Yonhap News
By AsiaToday reporter Lee Seok-jong
The South Korean government urged Japan on Wednesday to swiftly withdraw its export restrictions against South Korea, claiming that the move will break the global value chain.
"Japan's export restriction measures could further weaken a global value chain. We urge Japan to immediately withdraw its export regulations," a government official told foreign press in a briefing in Seoul.
This is the first time the government has strongly pointed out the unfairness of Japan's restrictions to foreign reporters based in Seoul. This reflects the government's strong willingness to seek international support in its intensifying trade war with Japan.
"Japan decided to restrict the export of some key chemicals used in semiconductor production without any prior notice," the official said. "If semiconductor lines are stopped, it will adversely affect companies ranging from Apple, Amazon and Dell to Sony and billions of consumers all over the world," he said.
The official stressed that Japan's export curbs could harm not only South Korea but also consumers around the world.
"Japan has made a promise at the G20 Summit in Osaka as a host country of the summit and a supporter for progress in global free trade that it will continue to uphold the principles of free trade," he said. "I believe Japan, the biggest beneficiary of free trade, will keep its promise."
In regards to Japan's claim about the reason for limiting exports to South Korea, the official said, "Tokyo initially talked about 'breach of trust' and then claimed the possibility of illegal shipment of dual-use materials out of South Korea without presenting any clear evidence. Therefore, such claims are simply groundless."
The official said that South Korea's level of trade control on strategic assets is higher than that of Japan. "According to a report published earlier this year by the Institute for Science and International Society, South Korea ranked 17th, while Japan ranked at 36th in terms of national strategic trade controls."
Regarding the South Korean Supreme Court rulings in favor of Korean victims of Japan's wartime forced labor, the official said, "The principle of division of powers in democracy is as important as God and the nation. The South Korean government cannot ignore the Supreme Court ruling that the 1965 agreement didn't cover crimes against humanity and human rights violations against forced laborers."
The official said that Seoul hopes to settle the issue through dialogue and creative solutions. "The government believes that's the best way to maintain solidarity between Korea, the U.S., and Japan, in the light of numerous challenges we face."