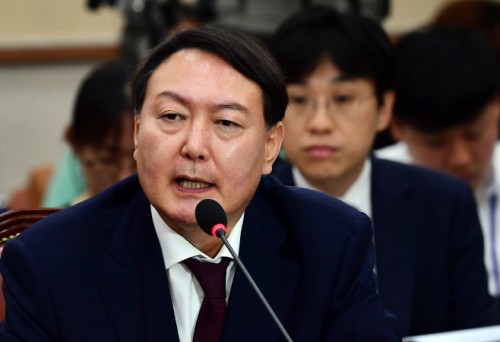 President Moon Jae-in on Tuesday appointed Yoon Seok-youl as the new prosecutor-general./ Photographed by Lee Byung-hwa
By AsiaToday reporter Lim Yoo-jin
President Moon Jae-in on Tuesday appointed Yoon Seok-youl as the country's top prosecutor. As the second prosecutor general of the Moon Jae-in administration, Yoon is expected to carry out prosecution reforms while rooting out corruption and illegalities. In particular, it is noteworthy how he would deal with the Moon Jae-in administration's key prosecution tasks – the adjustment of investigative rights of police and the prosecution, and the establishment of an independent body for investigating allegations against high-level government officials,
With Yoon's appointment, Moon Jae-in has now appointed 16 individuals to high-level posts without the parliament adopting a confirmation hearing report. Yoon will assume the post from 12 a.m. next Thursday, immediately after the term of his predecessor, Moon Moo-il, ends.
"President Moon Jae-in authorized the appointment of Yoon as prosecutor general at around 2:40 p.m.," said presidential spokesperson Ko Min-jung in a briefing. The president had repeatedly asked the National Assembly to send a confirmation hearing report on Yoon by Monday. However, the main opposition Liberty Korea Party (LKP) and the minor Bareunmirae Party raised a number of allegations against Yoon, called for his voluntary resignation. In the end, President Moon formally picked Yoon as prosecutor general in accordance with the Personnel Hearing Act.
Conservative opposition parties strongly protested Yoon's appointment as Moon authorized it without lawmakers' consent. "The prosecution should be a fair and right organization, but I'm very concerned," said LKP Leader Hwang Kyo-ah during his visit to Daegu. LKP Floor Leader Na Kyung-won said that the president's plan to appoint Yoon is an insult to parliament and the people.
Immediately after the president's approval of the appointment, Bareunmirae Party Floor Leader Oh Shin-hwan said, "The prosecutor general lied at the hearing. The president ignored the National Assembly for such a prosecutor general." Kim Jung-hwa, spokeswoman of the same party, said, "It is such a cold-blooded act when the opposition parties promised bipartisan cooperation to overcome the economic crisis. Why do we need a hearing if they can do whatever they want?"
The ruling Democratic Party pointed out that the president's appointment was inevitable as the opposition parties' dragged it down excessively. "It is very unfortunate that a nominee who is more suitable for the post that anyone else has been appointed without a hearing report due to the opposition," said DP spokesperson Jeong Chun-suk. "It is regrettable that the confirmation hearing system has turned into a political offensive means of opposition parties."