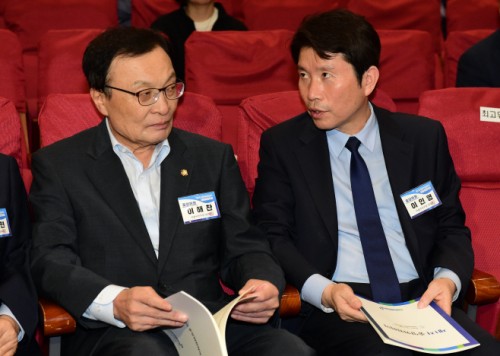 DP Chairman Lee Hae-chan (left) and DP Floor Leader Lee In-young/ Photographed by Song Eui-joo
By AsiaToday reporter Lim Yoo-jin
The ruling Democratic Party (DP) said on Thursday it would include up to 300 billion won ($254.8 million) in supplementary budget to respond to Japan's export curbs. As a result, the amount of supplementary budget submitted to the National Assembly in April is expected to increase to 7 trillion won.
DP Policy Chief Cho Jung-sik said after a party meeting at the National Assembly that the extra budget will be urgently needed to cope with Japan's export regulations. "The extra budget will be spend to support technological development, commercialization and mass production related to three materials now under Japan's export restrictions and other itemss that are prone to possible additional measures by Tokyo," Cho said.
In the budget for technology development support, the party decided to significantly increase the budget for the research and development (R&D) efforts for 50 industrial materials and components that are heavily dependent on Japan as well as the enhancement of SMEs' technology independence.
"We will actively support reliability and performance evaluation of items that have secured technology but not yet commercialized," Cho said.
"We will reflect more than 100 billion won in the budget bill to support semiconductor and display performance evaluation, projects involving manufacturing equipment demonstration, and establishment of material parts alliance equipment that are highly likely to be regulated later," Cho said.
"We will also expand financial support for home production of parts, materials and facilities so that domestic production capacity for export-regulated items can be improved," he said.
"In order to avoid the nation's excessive dependence on specific countries for high-tech materials, it is necessary to go beyond short-term responses and promote local manufacturing of key materials, parts and equipment in the long term," Cho said.
"The party and the government plan to actively reflect the budget related to localization policies and industrial competitiveness improvement of the key materials, components and equipment in the budget proposal next year," Cho said.