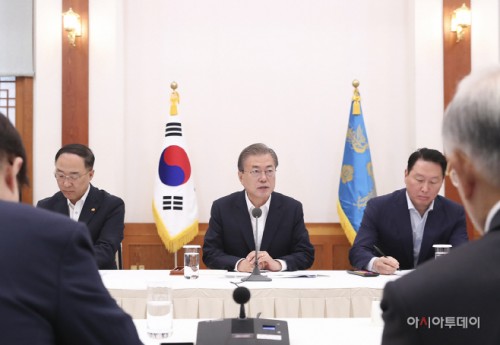 President Moon Jae-in speaks during a meeting with business leaders over Japan's export curbs at Cheong Wa Dae on Wednesday. The meeting was attended by top executives of the country's top 30 conglomerates, including Samsung, Hyundai Motor, SK, LG and Lotte, as well as key figures of four economic organizations./ Source: Cheong Wa Dae
By AsiaToday reporter Lee Seok-jong
President Moon Jae-in on Wednesday met with top executives of the country's major conglomerates, including Samsung, Hyundai Motor, SK, LG and Lotte, and vowed to actively support local companies to minimize the damage caused by Japan's export curbs. In response, the business leaders said they will take all measures in close consultation with the government in order to turn crisis into opportunity.
"We need to take this opportunity as a way to increase the domestic development rate of our key industries, parts and materials, so that they are less dependent on foreign countries," Moon said. The business leaders agreed on the government's willingness to strengthen the competitiveness of parts industry and the localization of components, while requesting the government's long-term support.
President Moon warned Japan to stop heading towards a "dead-end" and once again called for Japan to withdraw its export restrictions against South Korea, saying, "I hope Japan positively responds to that."
"The Japanese government took measures to damage our economy for its own political gains and made remarks linking the measures to the sanctions on North Korea, but doing this is never desirable for bilateral ties and security cooperation," the president said.
During a two-hour meeting with 34 business leaders, including key figures of the country's 30 largest conglomerates, President Moon Jae-in discussed ways to respond to Japan's retaliatory export control measure.
"Since we are facing an unprecedented emergency, it is necessary to have a government-civilian crisis response system to maintain open communication between the government and businesses," Moon said. "Chiefs of major business groups, the presidential chief of staff for policy and the deputy prime minister should communicate continuously and come up with short-term and fundamental measures."
"If the government and businesses combine efforts, we can definitely over the current difficulties and turn this chance to upgrade our economy," he said. "As our economy has always been, I hope we will be able to turn the crisis into opportunity."
Regarding short-term measures, Moon said, "The government will actively support local firms so they can diversity their import origins, expand domestic production and adopt key foreign technologies in order to minimize damage." He also vowed to speed up administrative procedures.
"I will seek cooperation of the National Assembly to reflect the urgent budget needed for rapid technological development, demonstration and testing in the upcoming supplementary budget," Moon said.
Regarding fundamental measures, Moon stressed, "This situation should serve as an opportunity to drastically increase the domestic development rate of our key technologies, key parts and materials and equipment, so that our main industries' are less dependent on foreign countries."
In particular, the president stressed the importance of improving the industrial structure that is dependent on certain countries, and said, "The government will significantly expand tech development funds in the government's extra budget, and also mobilize all available resources to foster and localize the parts, materials and equipment industries."