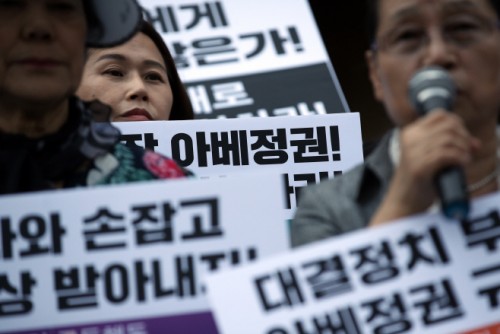 A press conference for the announcement of forced labor victims and civic social organizations involving Japanese export regulations was held in front of the Japanese embassy in Seoul, July 5, 2019./ Source: Yonhap
By AsiaToday reporter Lee Jang-won
The South Korean government has taken a two-track approach to Japan's retaliatory export control measure. Abroad, the government will file a complaint with the World Trade Organization (WTO) to raise awareness of the unfair decision by Japan across the globe. At home, it is seeking ways to strengthen industrial competitiveness of domestic companies while looking for short- and long-term countermeasures.
In particular, the government submitted a request for the WTO Council for Trade in Goods to take up Japan's retaliatory export control measure as an official agenda aimed to raise awareness of the unfair decision by Japan. The government highlighted the unfairness of Japan's decision to tighten export rules on three materials essential for the production of chips and displays bound for South Korea, in a meeting of the WTO Council for Trade in Goods on Tuesday in Geneva.
"On the previous day, South Korea's Permanent Mission in Geneva proposed that the matter be discussed as a formal agenda item at a meeting of the WTO Council, and the panel adopted it," a government official said. The government explained to the panel that Japan imposed export curbs on a single country, and that it is inadequate to take economic retaliation for a political purpose. It also expressed deep regret for Japan's announcement of tightening the leash on exports to South Korea shortly after the G20 summit in Osaka, where Japan promised to promote a free and fair trade environment.
The government also called for Japan's clarification for the basis of the export control measure and swift withdrawal of the move, while emphasizing that Japan's claims of "lack of trust" and "occurrence of an inappropriate matter" cannot be grounds for its action under the current WTO regulations. The South Korean government also stressed that the move can hurt not just manufacturers of the two nations but also the global supply chain, and that it goes against the spirit of free trade.
The government will publicize the issue at the WTO General Council Meeting slated for July 23-24 in Geneva. "We expect this to help arouse public opinion abroad over the unfair Japanese measure," a foreign ministry official said.
The government is also preparing to file a formal complaint with the WTO. "The trade ministry is preparing to file a complaint with the WTO," Foreign Minister Kang Kyung-wha said in an Assembly session Tuesday. Prime Minister Lee Nak-yon clarified the government's position, saying, "Filing a complaint with the WTO is necessary."
Regarding Tokyo's allegations that Seoul shipped key industrial materials to Norht Korea that violated UN sanctions, Industry Minister Sung Yun-mo said, "We have found no evidence of the transfer of hydrogen fluoride imported from Japan to any UN-sanctioned countries, including North Korea. We urge Japan to stop making groundless allegations."