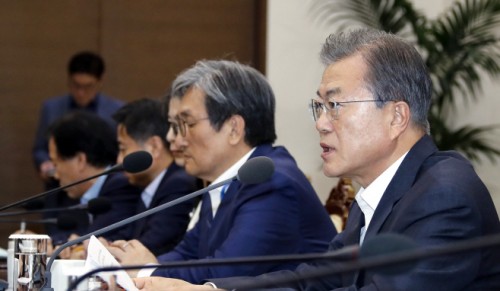 President Moon Jae-in speaks during a meeting with his senior aides at Cheong Wa Dae on July 8, 2019./ Source: Yonhap News
By AsiaToday reporter Hong Sun-mi
President Moon Jae-in has urged Japan on Monday to withdraw its latest trade restrictions in his first public remarks since the announcement of the export curbs.
During a meeting with his senior aides at Cheong Wa Dae, Moon said, "I hope we can return to the international community's belief that trade should be a tool for co-prosperity as well as the principle of free trade that Japan has always advocated for." Moon also urged Japan to withdraw its decision and take part in sincere bilateral dialogue.
Moon's call on Japan to return to the principle of free trade seems to have shown his commitment to approach this issue economically, not politically.
"A vicious cycle created by measures and countermeasures wouldn't be ideal for both countries," the president said. "However, the government would have no choice but to take a necessary response if South Korean companies begin experiencing actual damages," he said before adding he hopes things don't come to that.
The president, who has been saving his words regarding the issue, seems to have made it clear that he will not stand back while South Korean companies suffer the consequences.
◇ "It is necessary to review the establishment of a public-private emergency response system depending on the situation"
"Not only South Korea, but the whole world is worried about (Japan's) moves that intend to restrict reciprocal trade between companies for political companies," Moon pointed out.
"The most important thing in this unprecedented emergency situation is close cooperation between the government and businesses," he said. "Depending on the progress of the situation, it is necessary to review the establishment of a public-private emergency response system."
For this, Moon ordered Cheong Wa Dae and all related ministries to be at the forefront of listening to the difficulties companies are facing, discussing solutions and providing all necessary support. At the same time, Moon revealed that his administration will make "calm efforts for the diplomatic resolution."
Presidential spokesperson Ko Min-jung told reporters that the president had to comment on Japan's export curbs since the issue is receiving public attention. "It was intended to listen to the difficulties South Korean companies are facing to prepare countermeasures," Ko said. "He urged Japan to withdraw its decision and take part in sincere bilateral consultation to prevent damage to the friendly relations between the two countries."