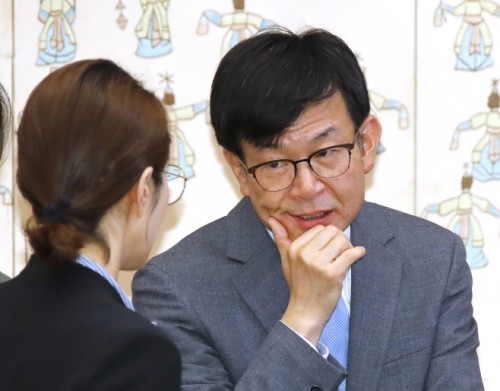 The presidential Cheong Wa Dae revealed Sunday that Kim Sang-jo, chief of staff to President Moon Jae-in for policy, and Economy and Finance Minister Hong Nam-ki had consultations with business leaders of major South Korean companies to discuss ways to cope with Japan's export restrictions. The photo, taken July 4, 2019, shows Cheong Wa Dae policy chief Kim Sang-jo talking with Cheong Wa Dae spokesperson Ko Min-jung ahead of a meeting between President Moon Jae-in and SoftBank Group Corp. CEO Son Jung-eui./ Source: Yonhap News
By AsiaToday reporter Lee Seok-jong
Finance and presidential policy chiefs held an emergency meeting with the top executives of major South Korean companies on Sunday to discuss ways to cope with Japan's export restrictions. On Wednesday, President Moon Jae-in is likely to invite 30 major South Korean companies to Cheong Wa Dae to address the very same issue. It seems the government has come forward to communicate with companies in order to respond to Japan's export curbs. It is noteworthy what kind of countermeasures will come out through such communication between the government and businesses.
"Economy and Finance Minister Hong Nam-ki and Kim Sang-jo, chief of staff to President Moon Jae-in for policy, had consultations with major business officials on Sunday," said Cheong Wa Dae spokesperson Ko Min-jung.
"They exchanged ideas on the economic uncertainties and agreed to communicate actively and closely with each other in the future," the spokesperson said. However, Ko did not disclose specific details of the meeting, such as the venue and the names of the companies, as well as the number of participants.
Three business leaders, including Hyundai Motor Co. Executive Vice Chairman Chung Eui-sun, SK Group Chairman Chey Tae-won and LG Group Chairman Koo Gwang-mo, seemed to have attended the meeting. Samsung Electronics Co. Vice Chairman Lee Jae-yong and Lotte Group Chairman Shin Dong-bin, who were originally expected to attend, were reportedly absent due to overseas travel.
It appears that Cheong Wa Dae kept the details of the meeting under wraps in order to minimize damage to the affected companies.
In particular, Cheong Wa Dae is said to have decided not to react emotionally and refrain from making official statements while preparing countermeasures to minimize damage caused by Japan's regulations.
Instead, the presidential office is expected to collect opinions from businesses in order to seek out solutions to the issue at the multilateral level. This is why the government decided to continue close coordination with companies at the meeting.
As part of efforts, Cheong Wa Dae is arranging a meeting between President Moon Jae-in and the heads of the country's 30 leading companies on Wednesday. The president will take the matter into his own hands by listening to the difficulties that local firms are facing and seek out solutions.
"The government will listen to the demands of the business community so that their voices can be reflected in the government's countermeasure plans," a senior government official said.
However, President Moon is unlikely to give any instructions or make any public messages concerning Japan's export control during the meeting on Wednesday.