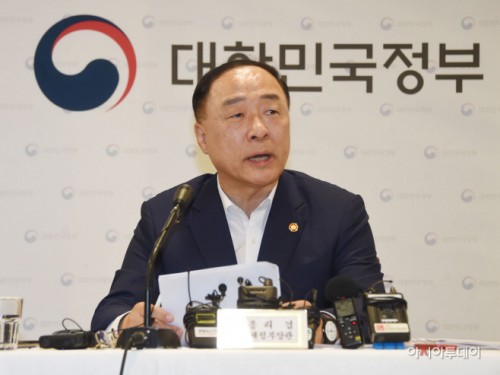 Deputy Prime Minister and Finance Minister Hong Nam-ki/ Source: The Ministry of Economy and Finance
By AsiaToday reporter Yoo Jae-hee
Deputy Prime Minister and Finance Minister Hong Nam-ki warned of corresponding measures if Japan does not withdraw its new export regulations on South Korea that he called "a clear act of economic retaliation."
In an interview Thursday with CBS radio on Thursday, Hong said, "The Japanese government says trust between the two countries has been harmed, however we clearly take it as economic retaliation against a South Korean court's decision to make Japanese firms provide compensation for their wartime forced labor."
From Thursday, Japan tightens regulations on exports to South Korea of high-tech materials that are used in South Korean semiconductors, displays and display panels.
In addition, Japan is said to be seeking to remove South Korea from its "white list" of friendly countries that enjoy fast-track export approvals.
"Japan's retaliatory move is a clear violation of international law and should be withdrawn," Hong said. "The export restrictions will not only hurt the Korean economy but also Japan's."
The finance minister said South Korea will consider various corresponding measures, including filing a complaint with the World Trade Organization (WTO), unless Japan withdraws export curbs.
"An internal review is in progress because South Korea surely needs to ask the WTO to make a judgment if the problem is not settled," Hong said. "The government will decide when to file the complaint as soon as the internal review is over."
"Since it takes a long time for the WTO to produce a conclusion, it cannot be the only solution," he said. "South Korea will take other necessary measures under domestic and international rules as well."
As for the possibility of expanding export-regulated items, he said, "It is important to communicate with related companies to minimize the damage. If retaliation brings retaliation, it would hurt Japan as well. I hope the matter is settled smoothly."
Hong said there had been hints since early this year of possible economic retaliatory actions from Japan if the wartime ruling dispute was not resolved, and that local officials had been monitoring the situation.
"We must actively promote localization of parts, materials, and equipment that are highly dependent on foreign countries," he said. "If related budget is needed, we can discuss it in a provisional session of the National Assembly on the supplementary budget deliberation."
In relation to the government's announcement Wednesday on figure revision of the growth rate forecast for this year to 2.4-2.5 percent, down 0.2 percentage point from its earlier estimation, Hong said Japan's export curbing actions were not reflected.