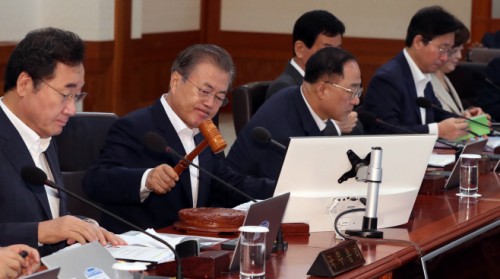 President Moon Jae-in presides over a Cabinet meeting at Cheong Wa Dae on July 2, 2019./ Source: Yonhap News
By AsiaToday reporter Hong Sun-mi
"North Korea and the U.S. did not sign an agreement, but through actions, they put an end to their hostility and declared an official beginning to a new era of peace," President Moon Jae-in said on Tuesday.
During a Cabinet meeting, Moon said that North Korea and the United States effectively declared an end to their hostile relations with the historic meeting of the top three leaders and the third North Korea-US summit at the truce village of Panmunjom in the Demilitarized Zone (DMZ) on Sunday.
"For the first time in 66 years since the 1953 Korean Armistice Agreement, the leaders of the US and North Korea shook hands at the Military Demarcation Line (MDL), with the U.S. leader crossing the MDL at the guidance of the North Korean leader without any bodyguards," Moon said.
"If we keep that moment in mind and use it as a basis for the upcoming North Korea-US dialogue, it will lead to tangible results," Moon said.
Cheong Wa Dae has considered the inter-Korean military agreement on September 19 along with the previous three inter-Korean summits as a de-facto non-aggression agreement and an end-of-war declaration. The presidential office believes that if North Korea and the United States agree to end the Korean War, a de-facto end-of-war declaration will be made, giving the momentum for discussion on the North Korean denuclearization. President Moon believes that the recent meeting at Panmunjom has set conditions to make progress in North Korea-US denuclearization talks.
Above all, what's catching attention is that the South Korean president revealed that he explained to Trump the "positive effects" of the Kaesong Industrial Complex on the inter-Korean economy and security. Experts claim that South Korea is likely to begin cooperation with the North by reopening the Kaesong Industrial Complex and Mount Kumgang Tourism.
In his previous speech marking the centenary of the beginning of Korea's March 1 independence movement, Moon said he plans to consult with the U.S. on ways to resume stalled tours to Mount Kumgang and the operation of the joint industrial complex in Kaesong. By then, however, his remarks did not attract much attention as it was shortly after the breakdown of the Hanoi summit.