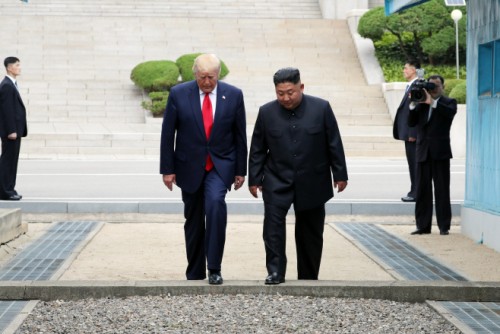 US President Donald Trump and North Korean leader Kim Jong-un walk towards the South Korean side of the border at the village of Panmunjom in the Demilitarized Zone (DMZ) separating the two Koreas on June 30, 2019./ Source: Yonhap
By AsiaToday reporter Lee Jang-won
After the historic meeting of the top leaders of the two Koreas and the US at the Demilitarized Zone (DMZ) on Sunday, the U.S. immediately has immediately begun preparatory work for further negotiations with North Korea. While maintaining the top down approach, Washington and Pyongyang are seemingly working hard for working-level talks in order to avoid no-deal summits like in Hanoi. Depending on the outcome of the working-level negotiations, North Korean leader Kim Jong-un may be able to make a historic visit to the White House.
Kim and Trump held a "historic meeting at Panmunjom," North Korea's official Korean Central News Agency (KCNA) reported Monday. "The two leaders agreed to resume and push forward productive dialogues for making a new breakthrough in the denuclearization of the Korean Peninsula," the KCNA said. US Secretary of State Mike Pompeo said he expected working-level talks with Pyongyang over North Korea's nuclear program to resume in mid-July. He added that Pyongyang is expected to replace some of its negotiators at working-level negotiations.
Pompeo said that Washington's new negotiating partner representing the North will be Pyongyang's foreign affairs ministry. "It's likely to be one of a couple of people," he said. As the center of the North Korea-US negotiations has moved from the unification ministry, headed by senior negotiator Kim Yong-chol, to the foreign ministry, the North's first vice foreign minister Choe Son-hui has been tabbed as the most likely candidate for Stephen Biegun's new counterpart.
Once Washington and Pyongyang restart their working-level negotiations, the two sides should overcome various hardships and difficulties to narrow their differences over the scope and terms of the North's denuclearization. Washington believes the Yongbyon nuclear complex is part of the North Korean nuclear program and that complete denuclearization goes beyond shutting down the nuclear facility. There are also concerns that the two sides may go back to the starting point if North Korea demands for sanctions relief.
"North Korea and the US still have a wide gap," said Dr. Kim Hyun-wook, professor at the Korea National Diplomatic Academy. "Let's see what happens," he said. "North Korea may demand less than at the Hanoi summit, but it will have no choice but to demand sanctions relief again."
However, if the two sides are able to narrow their differences at the working-level talks, another big event following the surprise meeting of the three leaders at Panmunjom may take place. Trump repeatedly confirmed that he would invite the North Korean leader to the White House, saying, "Chairman Kim can visit the White House anytime he wants to do so." If Kim visits Washington, he would become the first North Korean leader to set foot in the United States.