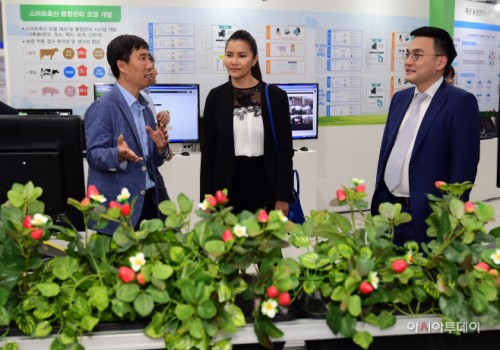 Namuun Battulga (center), chairman of Young Entrepreneurs Council of Mongolia, attends the 2019 Agricultural Technology Exhibition held at the aT Center in Yangjae-dong, Seoul, on June 20, 2019./ Photographed by Song Eui-joo (songuijoo@)
By AsiaToday reporter Lee Ji-hoon
"I have come to learn South Korea's excellent agricultural technology," said Namuun Battulga, chairman of Young Entrepreneurs Council of Mongolia.
She visited the 2019 Agricultural Technology Exhibition at the aT Center in Seoul on June 20, and said, "Mongolia is now very interested in smart farms and agricultural technology using information and communication technology (ICT)."
Namuun, who visited South Korea in order to find ways to promote exchanges between young entrepreneurs in the two nations and boost startups in Mongolia, attended the exhibition hosted by the Rural Development Administration. As the eldest daughter of Mongolian President Khaltmaagiin Battulga, Namuun is acting as the first lady of Mongolia.
Having selected agriculture, ICT, tourism and distribution as four key areas of cooperation among young entrepreneurs in the two countries, Namuun expressed her strong will to benchmark South Korea's agricultural sector.
"More than 3,000 Mongolian professors and students live in South Korea, and a lot of students study Korean in Mongolian universities," she said. "Combining Mongolia's rich human resources and fertile lands with South Korea's advanced agricultural technology will bring in lot of synergy."
"I think South Korea is the best country to benchmark because it is geographically close to Mongolia, and both countries share similar cultural backgrounds," she added.
She expressed her amazement at South Korea's advanced agricultural technology after closely looking around the exhibition.
"This is my first time visiting the agricultural fair, and I was amazed by the fact that there are so many different sectors in agriculture," Namuun said. "I was impressed by South Korea's smart agricultural technology and advanced agricultural machinery. In particular, many young people in Mongolia will be interested in the smart greenhouse, which allows you to manage the growth environment of crops easily with your smartphone."
She said she will continue to promote cooperation between the two countries.