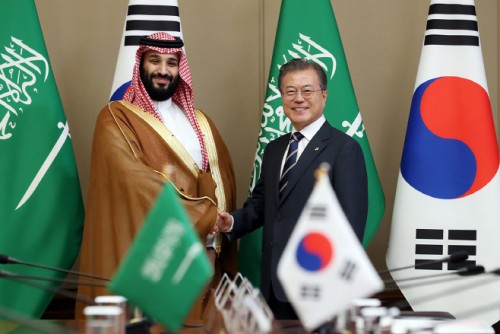 Saudi Arabia's Crown Prince Mohammed bin Salman and President Moon Jae-in/ Source: Cheong Wa Dae
By AsiaToday reporter Hong Sun-mi
Saudi state-run oil company Aramco will invest $6 billion (7 trillion won) in South Korea's third largest oil refinery company S-Oil by 2024.
South Korea and Saudi Arabia signed memorandums and contracts on projects with a combined value of $8.3 billion (9.6 trillion won) in the fields of hydrogen-powered vehicles, ships, robots and more.
President Moon Jae-in held a one-on-one meeting with Saudi Arabia's Crown Prince Mohammed bin Salman, who also serves as deputy prime ministers and minister of defense, at the presidential Cheong Wa Dae on Wednesday.
"Saudi Arabia is the largest oil supplier for us, and it's the biggest customer for South Korean construction firms. It is also our No. 1 trade partner in the Middle East and also the biggest investor in the region," Moon said at the talks.
"I hope that the friendship and cooperation between the two countries will develop into mutual prosperity and coexistence of the future upon the crown prince's visit to South Korea," Moon added.
In response, Crown Prince Mohammed said, "I am aware that several MOUs and partnership are underway with my visit to South Korea. I believe that South Korea and Saudi Arabia will be able to further strengthen trade and investment."
Following the meeting, President Moon and Crown Prince Mohammed attended a signing ceremony of MOUs with a combined value of $8.3 billion between South Korean and Saudi firms and institutions.
At the signing ceremony, Aramco and S-Oil signed a $6 billion MOU for investment cooperation.
Aramco has already invested KRW 5 trillion in S-Oil's complex petrochemical facilities in Ulsan, which was completed last year.
S-Oil held an inauguration ceremony for the facilities at the Shilla Hotel in Seoul in light of the Saudi Crown Prince's visit. President Moon also attended to celebrate the event.
South Korean companies and organizations, such as Hyundai Heavy Industries, Hyundai Oilbank, SK Gas, Hyundai Motor, Korea National Oil Corporation, and Korea Institute for Robot Industry Advancement, signed 10 MOUs and contracts for cooperation with Saudi corporations, including Saudi Aramco and AGIC.