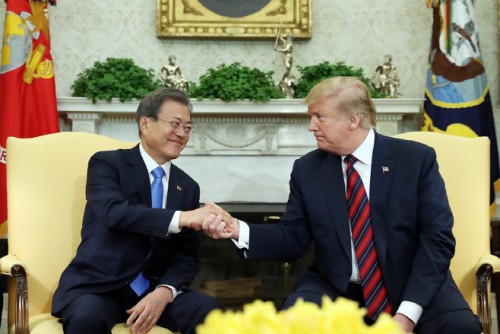 President Moon Jae-in shakes hands with U.S. President Donald Trump at White House in Washington, USA, on April 12./ Source: Cheong Wa Dae
By AsiaToday reporter Hong Sun-mi
This weekend will be a crucial period for North Korean denuclearization and the situation on the Korean Peninsula as President Moon Jae-in is set to meet leaders of the United States, China and Russia.
Since the collapse of the second Trump-Kim summit in Hanoi in February, the United States and the two Koreas have failed to find a breakthrough in denuclearization talks. As a result, there is much attention towards whether the Group of 20 (G20) summit in Osaka and Trump's Seoul visit would provide a turning point in denuclearization negotiations.
In particular, the biggest interest is what kind of message regarding North Korea that Moon will deliver during his summit with Trump, who will arrive in South Korea for a two-day visit on Saturday and meet the South Korean president on Sunday. Besides, whether Trump will travel to the demilitarized zone (DMZ) and deliver a message towards the North during his Seoul trip, is attracting worldwide attention.
It would be a highly symbolic event if Trump sends a peace message to the North calling for resumption of dialogue at the DMZ, a symbolic place of the painful divisions that remain long after the end of the Korean War. The U.S. government revealed last Friday that Trump has no plans to meet with the North Korean leader during his stay in South Korea this week. However, they did not deny the DMZ visit, leaving the possibility open.
Attention is also drawn to bilateral talks between Moon and his Chinese counterpart Xi Jinping, as well as bilateral talks between Trump and Xi, as planned at the G20 summit. "President Moon is scheduled to hold one-on-one talks with the leaders of major countries such as China, Indonesia, Russia and Canada on a wide array of topics, including Korean Peninsula issues and bilateral relations," Deputy National Security Adviser Kim Hyun-jong told reporters on Tuesday.
"The G20 summit in Osaka is expected to be a useful occasion for discussions with major countries on the recent Korean Peninsula issues," Kim added.
As Xi visited Pyongyang last week, he is expected to pass Kim's message to both Moon and Trump. In addition, both Moon and Trump are expected to grasp North Korea's real intentions through their bilateral meetings with Putin. Putin also held a summit with Kim Jong-un last April.