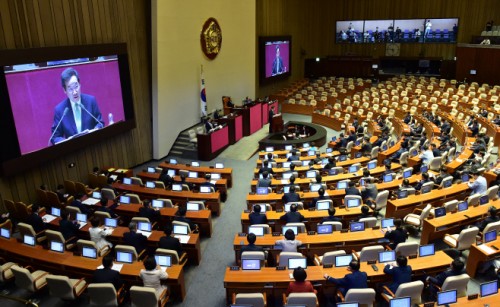 Prime Minister Lee Nak-yon delivers a parliamentary speech on the government's additional budget urging the National Assembly to swiftly pass it Monday. The rival parties failed to normalize the operation of the National Assembly after the main opposition Liberty Korea Party reversed its stance on resuming the sessions./ Photographed by Lee Byung-hwa
By AsiaToday reporter Lim Yoo-jin
Rival parties failed to reach a deal to normalize the operation of the National Assembly on Monday as the main opposition Liberty Korea Party (LKP) rejected the deal initially agreed to between the floor leaders. As a result, a parliamentary standoff for nearly three months is expected to continue.
LKP Floor Leader Na Kyoung-won decided not to sign the normalization agreement with the ruling Democratic Party and the minor opposition Bareunmirae Party (BP) at a general meeting of the assembly, claiming that the agreement between the three parties is invalid.
After the general meeting, Na concluded that the agreement lacked specifics and therefore found it difficult to approve. "(The initial deal) was agreed to be proceeded with only on the condition that we had the party's approval. And there was a call from members of our party that the agreement needs to be more clear," she said.
However, Na said the party will participate in a National Assembly hearing for prosecutor-general nominee Yoon Seok-youl and tax chief nominee Kim Hyun-jun. Na said the party will also take part in sessions of some of the standing parliamentary committees in relation to the military's failure to detect a North Korean boat crossing the South's maritime border and a reddish tap water crisis in Incheon.
It has been reported that the LKP lawmakers strongly remonstrated about a statement of the deal that the three parties should 'comprehensively discuss each party's proposals and handle the bills designated as fast-track ones, including an election reform bill, a reform to set up a special unit to probe high-ranking public officials and a measure to adjust the investigative power between the prosecution and the police, in accordance with the spirit of the agreement.'
The DP expressed regret that the parties failed to reach the normalization deal. After an administrative policy speech by Prime Minister Lee Nak-yon, DP Floor Leader Lee In-young showed his displeasure, saying, "It is unthinkable to overturn an agreement that was initially agreed to."