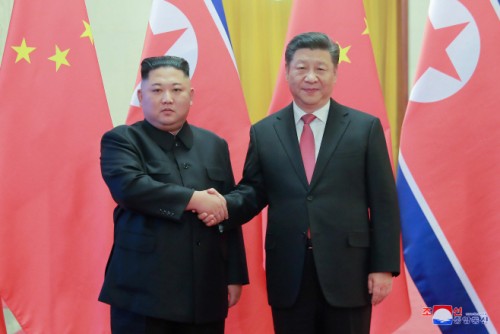 North Korean leader Kim Jong-un shakes hands with Chinese President Xi Jinping during their summit at the Great Hall of the People in Beijing in January./ Source: Yonhap
By Beijing correspondent Hong Soon-do & AsiaToday reporter Jo Jae-hyung
Chinese President Xi Jinping will travel to North Korea this week for a two-day visit, marking the first visit to North Korea by a Chinese leader in 14 years. His visit coincides with the 70th anniversary of China and North Korea establishing diplomatic ties. Cheong Wa Dae and the South Korean government is keeping a close watch on the impact of the meeting between Xi and North Korean leader Kim Jong-un on the Korean Peninsula. In particular, Trump-Xi, Moon-Xi, and Moon-Trump summit talks will be held with next week's G-20 summit in Japan as a momentum. It is noteworthy whether a summit between North Korea and China would lead to get the stalled denuclearization talks back on track.
"The two sides will further exchange views on the Korean Peninsula situation in the hope of achieving progress in promoting the political settlement of the issue on the Korean Peninsula," said Song Tao, head of the International Department of the CPC Central Committee. His remark indicates that China is hoping the meeting between the two leaders will serve as a catalyst for the denuclearization negotiations.
"The upcoming summit between the leaders of China and North Korea will help to keep the momentum of denuclearization dialogue alive," a key official of Cheong Wa Dae said. Foreign Minister Kang Kyung-wha, on her way back home from Russia trip, told reporters Tuesday that "communication between North Korea and China would make a contribution to realizing peaceful settlement of denuclearization."
◇ Experts talk about Xi's motive behind the visit
Xi's visit to North Korea come at a delicate moment of denuclearization confrontations and trade tensions with the United States. Many are paying attention to Xi's motive behind the visit.
"As the United States provoked China by bringing up issues involving Taiwan and Hong Kong, China made use of North Korea visit card in response," said Shin Beom-chul, a researcher at the Asan Institute for Policy Studies. "Xi's visit is aimed to strengthen its traditional cooperation with North Korea while putting the North on its side."
"For Chairman Kim, it is a very good opportunity," Shin said. "Xi's visit for the first time in 14 years is meaningful since it lets the entire world know the North is not isolated anymore. It also repairs the damage caused by his fruitless summit meetings in Hanoi and Vladivostok."
"Besides, there has been China's economic assistance to North Korea behind the curtains whenever a summit meeting with China was held. Therefore, Xi's upcoming summit would help the North Korean economy," Shin said.
Some analysts claim that Xi's visit is intended to grasp Kim's true intentions.
"Xi's upcoming North Korea trip is aimed at flaunting and securing China's presence and influence in Korean Peninsula affairs," said Park Byung-kwang, a researcher at the Institute for National Security Strategy.