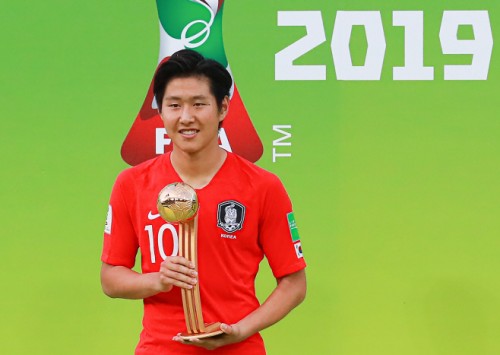 Lee Kang-in/ Source: Yonhap
By AsiaToday reporter Ji Hwan-hyuk
South Korea's under-20 football team gave it all, but came up short of taking home their first-ever FIFA World Cup trophy. Despite the loss however, the young Taegeuk Warriors have rewritten South Korean soccer history with their best performance. South Korean midfielder Lee Kang-in, who plies his trade with Valencia CF in Spain, earned the Golden Ball as the best player of the at the premier youth tournament in Poland.
The South Korean team, led by head coach Chung Jung-yong, finished in the second place at the FIFA U-20 World Cup following a 3-1 loss to Ukraine in the final at Lodz Stadium in Lodz on Saturday. Lee Kang-in opened the scoring for South Korea by converting a penalty in the fifth minute, but Ukraine scored three unanswered goals for their first title, one at the 34th minute and two more in the second half. Vladyslav Supriaha scored twice and Heorhii Tsitaishvili scored a late dagger for the champions.
Still, South Korea rewrote history by making the country's highest finish at any FIFA men's tournament, surpassing the fourth-place finishes at the biennial youth tournament in Mexico in 1983 and at the World Cup it co-hosted with Japan in 2002. The future of South Korean soccer is bright with the players of the national team.
In particular, South Korea's ace Lee Kang-in, who finished the tournament having scored two goals and adding four assists in seven matches, proved himself to be a hope for the country's next generation soccer. Lee has become the first South Korean man to win the top individual award at a FIFA international tournament. Lee also became the fourth player since Lionel Messi in 2005 to win the Golden Ball at the age of 18. SuperDeporte, a leading sports newspaper in Valencia, highlighted Lee's Golden Ball award. Lee was also nominated for 2019 European Golden Boy award, which is given by sports journalists to a young footballer playing in Europe perceived to have been the most impressive during a calendar year.
Lee Kang-in, who is dubbed "golden left-foot" for his accurate kicks with his left foot, led the national team as a designated spot kicker while providing sharp passes in every match. He set up scoring chances with gorgeous passes whenever his team was in trouble against Senegal in the quarterfinals as well as Ecuador in the semifinals. Despite being the team's youngest member, Lee controlled the mood of the team with his leadership and fantastic performance.