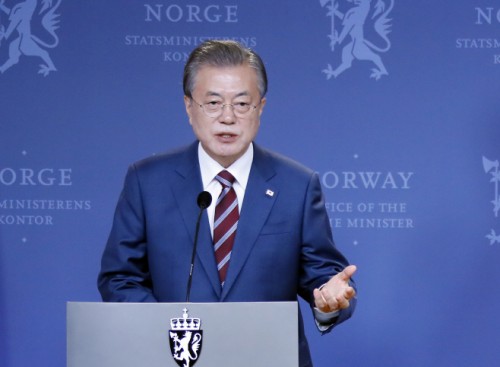 President Moon Jae-in holds a joint press conference after a summit with Norwegin Prime Minister Erna Solberg in Oslo on June 13, 2019./ Source: Yonhap
By AsiaToday reporters Lee Seok-jong & Cho Jae-hyung
South Korean President Moon Jae-in revealed Thursday that he is uncertain whether an inter-Korean summit would be held in June or not, but expressed hopes on meeting North Korean leader Kim Jong-un in the coming weeks. "The two Koreas have held summits in the past with only a short period of consultations and preparations, so physically it's not impossible," Moon said.
Speaking after a summit with Norwegian Prime Minister Erna Solberg in Oslo, Moon reaffirmed his willingness to hold another meeting with Kim. "As I mentioned on Wednesday, I'm willing to talk with Kim regardless of its timing, venue and formality," Moon said. "Whether or not Chairman Kim decides to do that depends on him."
Regarding Chairman Kim's recent handwritten letter to U.S. President Donald Trump, Moon said he was briefed by the U.S. side on the outline of the letter's contents. "There's an interesting part in it that President Trump has not yet mentioned," Moon said. However, he refused to reveal more than what Trump said.
Moon's comments are more specific and developed than the remarks he made at Oslo Forum the day before when he stressed the need for an inter-Korean summit ahead of Trump's Seoul visit by the end of this month. As a result, there is growing hope that Trump's Seoul visit will lead to an inter-Korean summit as well as North Korea-U.S. summit.
U.S. Special Representative for North Korea Stephen Biegun held a closed-door meeting Wednesday with members of the United Nations Security Council, where he said he views the recent letter from Kim, as well as his condolence message for former South Korean first lady Lee Hee-ho, as "positive signals."
After a summit meeting with Polish President Andrzej Duda, Trump told reporters, "I received a beautiful letter from Kim Jong-un." He called the letter "very nice" and "unexpected." He also gave a positive outlook for North Korea, saying, "We have a very good relationship together."