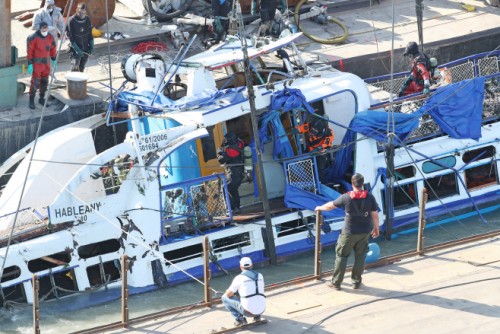 Officials conduct the recovery operation of the sunk shipwreck at Margaret Bridge in Budapest on June 11, 2019./ Source: Yonhap

AsiaToday reporter Lee Jang-won
Four more bodies have been recovered from the wreckage of the Hungarian sightseeing boat carrying 33 South Korean tourists that sank in the Danube River last month as it was lifted out of the river Tuesday morning in the Hungarian capital.
The Hungarian authorities lifted the Hableany (Mermaid) boat with a large crane from waters. Salvage operations began at around 6:47 a.m. In order to ensure what is inside the boat does not go missing in the process, they slowly lifted it by around 5 centimeters at a time.
The salvage operation was expected to begin as early as on Monday. However, it took some time because one of the four cables necessary for lifting had connection problems. The joint rescue team between the Hungarian authorities and the South Korean government decided to complete the cable installation on Monday night and lift the boat early in the morning the next day.
Less than 30 minutes into the salvage work, a portion of the Mermaid emerged from the water. Then after 7 to 8 minutes, the boat's upper deck and steering room appeared from the surface.
Divers then carried out a search for victims still trapped inside. One of the divers discovered a body believed to the Hungarian captain at the boat's steering room.
At around 8:00 p.m., when most of the upper structure of the boat came out on the water, several rescuers got on the boat's body to pull out the entrance door of the cabin on the first floor. Then the three other bodies, believed to be South Koreans, were discovered one after another. One of them is believed to be a six-year-old girl.
The salvage operation was temporarily paused earlier in the day, because unexpected damage was found on the boat's stern. Experts at the site decided to attach an additional cable. Once the boat is lifted up to the stern, they are expected to know the full extent of the damage.
As the three bodies found Tuesday are confirmed to be South Koreans, the number of Korean deaths is raised to 22 with four still accounted for.