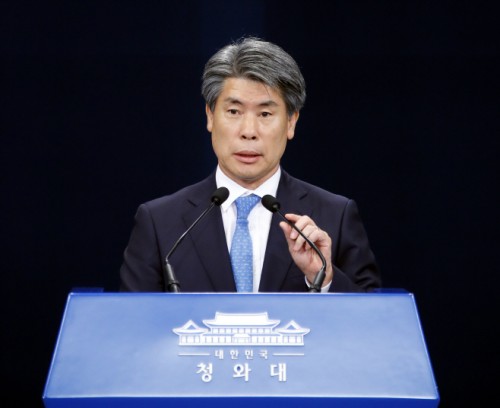 Yoon Jong-won, senior presidential secretary for economic affairs, speaks at a press briefing at Cheong Wa Dae in Seoul on June 7, 2019./ Source: Yonhap News

By AsiaToday reporter Hong Sun-mi
The government will focus on recovering economic vitality by announcing its manufacturing renaissance strategies in June, a month ahead of schedule.
It seems the government found that it needs to come up with active policy measures as external uncertainties, such as growing trade friction between the United States and China, have increased further than expected.
"We plan to announce a set of manufacturing renaissance strategies including the direction and strategies of industrial innovation within the month, a month ahead of schedule," Yoon Jong-won, senior presidential secretary for economic affairs, told reporters in a briefing Friday.
"We also plan to announce plans for each industry's innovative growth, beginning with future cars in August," Yoon said.
Yoon said the government is preparing to set up a 10 trillion won worth investment expansion measure to support corporate investment activities in non-memory semiconductor, future cars, and bio health sectors. It also plans to speed up the early execution of public finance.
"We are aiming for 61 percent of the early execution of public finance in the first half of the year and promoting a project to eliminate investment errors related to corporate investment projects," he said. "We will expand investment of public institutions to prepare a plan worth 10 trillion won to strengthen investment."
"We plan to announce the inclusive financial vision in July that includes financial support for low-incomers," Yoon said.
◇ Economy contracts 0.4% in 1st quarter
The reason why the government focuses on invigorating economic vitality is due to the impact of external factors, such as trade friction between the United States and China, on the national economy is higher than expected.
In particular, the government analyzed that the economy contracted 0.4 percent in the first quarter of the year from three months earlier and 1.7 percent from the same period of last year because the impact of external conditions reached 60 to 70 percent.
"The global economy is in a downtrend, while global trade and manufacturing are shrinking due to worsening trade frictions. Semiconductor prices have fallen shaper than expected. There is also a possibility that trade frictions will be extended," Yoon said.
"The government will give top priority to restoring economic vitality. We need a more active police response amid increased downside risks."
"Data shows that business sentiment dropped slightly in April. Depending on external conditions, business sentiment may either rebound or decline, but we expect it will rebound in the second quarter," Yoon said.