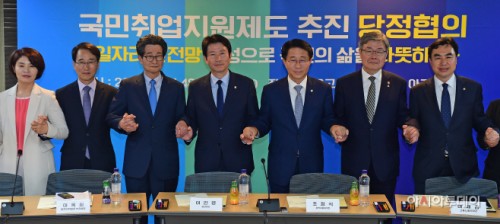 Officials from the ruling Democratic Party and the government pose for a photo at the Seoul employment office on June 4, 2019, before holding consultations on job creation for low-income families./ Photographed by Song Eui-joo
By AsiaToday reporter Heo Go-woon
The government plans to offer 500,000 won (US$422) per month to jobseekers in the low-income bracket for a maximum of six months under the name of "National Employment Support Scheme" starting next year. The state-driven scheme is part of President Moon Jae-in's priority to build an "employment safety net." If implemented, the scheme is expected to benefit 350,000 people next year and 600,000 by 2022.
The ruling Democratic Party and the government held consultations on job creation for low-income families at the Seoul employment office on June 4, and confirmed the plans to implement the new employment subsidy system.
People aged 18 to 65 who are in a blind spot of employment insurance will be eligible for the new subsidy, such as those who belong to low-income families, self-employed small business owners who went out of business, unemployed young people, and women whose careers have stalled.
The monthly subsidy will be paid to those jobseekers that earn less than 50 percent of the median income, have less than 600 million won (US$506,756) in total assets, and have been employed for at least six months in the two years before the date they apply.
The government plans to provide a subsidy of up to 1.5 million won (US$1,267) to those applicants from lower-income backgrounds that succeed in getting a job in order to induce long-term employment.
It also plans to provide employment promotion subsidy to young people aged 18 to 34 from the group who earn less than 50 to 120 percent of the median income.
Along with the subsidy, the government also decided to provide job consulting services to jobseekers.
The government is aiming to implement the scheme in July next year, hoping that a relevant bill will be passed during a parliamentary regular session that kicks off in September.
The government expects that the employment promotion subsidy will be provided to 200,000 people and while job consulting service will be provided to 150,000 people next year. Approximately 504 billion won in budget will be needed to support the program.
The government plans to gradually increase the number of beneficiaries of the scheme to 500,000 by 2021 and 600,000 by 2022. The income standard will be reduced from 50 percent of the median income to 60 percent in 2022.
The government and the ruling party hope that the scheme would raise the employment rate of the working poor by 16.7 percentage points, building a better employment safety net.