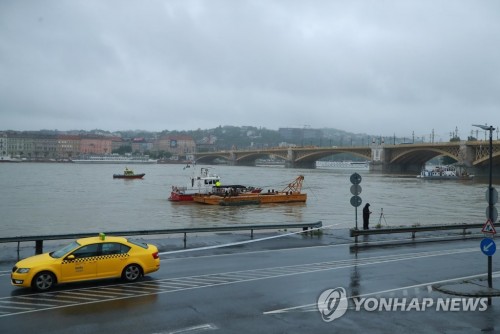 Source: Yonhap
By AsiaToday reporters Lee Seok-jong & Lee Jang-won
Seven South Koreans died and 19 others went missing after a sightseeing boat carrying them collided with a larger cruise ship and sank in the Danube River in the capital of Hungary at around 9 p.m. on Wednesday (local time). Seven South Korean tourists have been rescued.
The sunken boat, called Hableany, meaning mermaid in Hungarian, was on its way back after a night tour when it collided with a cruise ship 'Viking Sigyn', which was on its way to Slovakia, according to the foreign ministry and Very Good Tour agency, which organized the trip.
The boat was carrying 35 – 33 South Korean tourists and guides, and two Hungarian crew members. As the small boat collided with a larger cruise ship, it sank rapidly and killed 7 South Koreans and one Hungarian. Seven South Koreans have been rescued and 19 others are missing.
The Hungarian authorities are conducting search-and-rescue operations while investigating ways to raise the sunken ship from the riverbed. They have reportedly detained the Viking Sigyn cruise ship to investigate the incident.
The government immediately dispatched a rapid reaction team consisting of 18 members, including 12 rescuers from the fire department. Foreign Minister Kang Kyung-wha headed to Budapest late Thursday to oversee rescue and other efforts. A 7-member navy rescue team, a 6-member maritime police rescue team, and two officials from the National Risk Management Center will be dispatched to support rescue work.
The travel agency, Very Good Tour, dispatched its countermeasure force, including its CEO, to Hungary to deal with the incident.
In a telephone conversation with Hungarian Prime Minister Viktor Orban, Thursday night, President Moon Jae-in asked for swift search-and-rescue operations as well as thorough investigation of the cause of the incident. Immediately after the incident, Moon was briefed on the accident and ordered full-scale efforts and the mobilization of all available resources and measures to help support rescue work in cooperation with the Hungarian government. He also ordered to set up a central response headquarters headed by Foreign Minister Kang Kyung-wha, and to dispatch a response team to Hungary immediately.
The president held an emergency meeting from 11:45 am at Cheong Wa Dae with related ministers and officials, and instructed them to use all available means to support rescue and search operations.