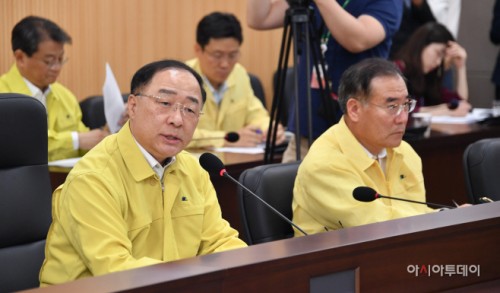 Deputy Prime Minister and Finance Minister Hong Nam-ki speaks during a meeting with economy-related ministers at the Sejong Government Complex on May 29./ Source: Ministry of Economy and Finance
By AsiaToday reporter Ahn Jong-ho
"In order to turn around current the economic conditions, it is important to revitalize the economy through corporate investment," said Deputy Prime Minister and Finance Minister Hong Nam-ki on Wednesday. "We will come up with three-step corporate investment projects."
During a meeting with economy-related ministers at the Sejong Government Complex, Hong said the plan will be included in the "Economic policy direction in the 2nd half of the year" to be announced next month.
While briefing on the plans and direction for economic policy to President Moon Jae-in on the previous day, the finance minister said, "It is urgent to boost corporate investment to spur economic vitality and to rebound the current economic situation."
In addition, innovative strategies to prop up service industry and to revive the manufacturing sector will be included in the "Economic policy direction."
"We will work hard as a team to come up with all policy measures to make the economy better in the second half of the year than in the first half," Hong said.
The finance minister also urged the parliament to pass the extra budget bill immediately. "The extra budget bill must be approved as soon as possible since the downside risks are growing due to deepening trade conflicts between the US and China, and the economic sentiment may shrink," Hong said.
"Disaster response budget to cope with fine dust air pollution and forest fire as well as projects that reflect the demand of the economic field are also included in the bill. If the passage of the bill is delayed, the duration of project operation will be shortened and the effect of extra budget will be reduced," he said.
The supplementary budget bill submitted to the National Assembly includes 265 billion won for expansion of trade financing to boost exports, 100 billion won for SMEs in the crisis zones to supply emergency funds, and 200 billion won for expansion of financing for small businesses.
The government's employment subsidy program that provides subsidies for companies that increase youth employment is closed on May 10 as it has already met this year's target of 98,000 people. The extra budget bill needs to be approved in order to receive 32,000 people more.
"There's no time to lose for every project in the bill," Hong said. "Related ministers should also discuss the government's plan for rapid execution in preparation for the parliamentary deliberations."