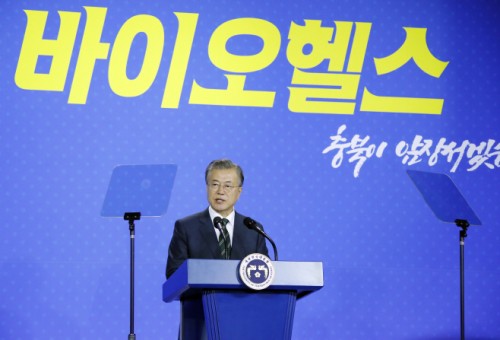 President Moon Jae-in proclaims the nation's bio-health vision in Osong Bio Valley, North Chungcheong Province, on Wednesday./ Source: Yonhap News
AsiaToday reporter Kim Si-young
The government has chosen the bio-health industry as one of its new target growth engines. It plans to expand its annual investment in research and development (R&D) up to 4 trillion won and improve approval regulations with aim to triple its market share in the global market, reach $50 billion in exports, create 300,000 jobs, and establish a big data platform.
The government announced such plans at a ceremony to proclaim the nation's bio-health vision in Osong Bio Valley, North Chungcheong Province, on Wednesday. "Now is the best opportunity for us to lead the global bio-health market," said President Moon Jae-in. "The era in which pharmaceutical and biotechnology leads our economy is just around the corner."
"By 2030, we plan to achieve a 6 percent global market share of pharmaceuticals and medical devices, reach $50 billion in exports, and foster the industry as one of the five major export industries," the president said. "By fostering professionals with expertise in pharmaceutical and bio-health sectors, we plan to become a world leader in the bio-health industry."
The government plans to foster the bio-health industry as one of the country's three future growth engines, alongside non-memory chips and future mobility. In order to achieve it, the government aims to establish an ecosystem that covers all phases of the bio-health industry from technological development, approval, production, to release. It plans to focus on establishing a big data platform, expanding tax and financing support, and improving regulations.
Last year, the nation exported 5.3 trillion won of new drug technologies in the global market, four times more than the previous year. Exports of medicine and medical devices stood at $14.4 billion, rising 19% year-on-year. The government believes that the country has the growth potential to become the world's leading bio-health powerhouse. Besides, it sees the bio-health industry will not only secure economic growth and job creation, but also play a key industry to guarantee the people's lives and health.
Due to improvement of regulations, the time needed to win approval for drugs and medical devices will be shortened. The expertise in examining new technologies will be strengthened and the number of examination experts will be increased.