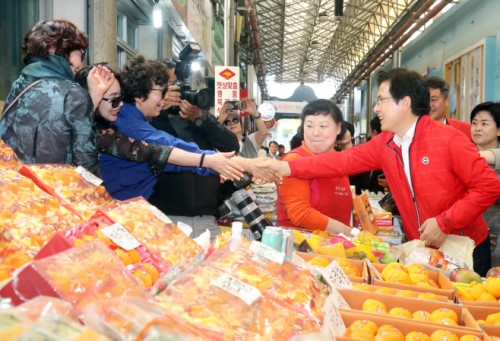 Liberty Korea Party leader Hwang Kyo-ahn is shaking hands with merchants in the Dongmun Traditional Market in Jeju Island on May 19./ Source: Yonhap News
By AsiaToday reporter Lee Seok-jong
There is an increasingly loud call for immediate break of a political stalemate amid an all-out protest of the main opposition Liberty Korea Party (LKP) following a joint fast-track drive by ruling and other rival political parties. Many people point out that normalizing the parliament is necessary so that President Moon Jae-in and the political parties can deal with an extra budget bill and other bills related to the national economy and people's livelihoods.
This week will be important for resumption of stalled parliamentary talks, as the parliamentary special committee on budget and accounts' term is to end May 29. If the existing special committee fails to review the extra budget bill, delaying the launch of a new committee on budget, the extra budget itself may fall apart. This week will be an important week to determine early normalization of the parliament.
In order to break the political stalemate, many suggest that President Moon and the heads of political parties should hold a meeting. However, Moon's proposal to meet with five party leaders is blocked with the LKP's one-on-one meeting offer. Many people say that the president should take a proactive step and meet with LKP leader Hwang Kyo-ahn regardless of format or content. It's because the National Assembly should cooperate in order to deal with urgent extra budget and public welfare bills.
The LKP should listen to the people's voices urging to return to the National Assembly to resume discussions on pending issues. Many also say that LKP leader Hwang should deliver the party's demands if an one-on-one meeting is held with Moon. However, Cheong Wa Dae is carefully watching the situation as there isn't much progress regarding the meeting between the president and the leaders of political parties.
"President Moon and the rival parties should make concessions first in order to normalize the National Assembly and then engage in political battles within the National Assembly," said a political critic in a phone interview with AsiaToday. "If the political parties fail to respond to the people's demands ahead of next year's general election, they will be subject the harsh judgment of the people."
Floor leaders of the ruling Democratic Party, the main opposition Liberty Korea Party and the minor opposition Bareunmirae Party are expected to hold a meeting on Monday to discuss ways to normalize the National Assembly. Newly elected Bareunmirae Party Floor Leader Oh Shin-hwan requested Rep. Lee In-young of the ruling Democratic Party and Rep. Na Kyung-won of the Liberty Korea Party to arrange a 'beer time'. If the three party leaders meet, it would be the first meeting since the election of the leadership of the 20th National Assembly.