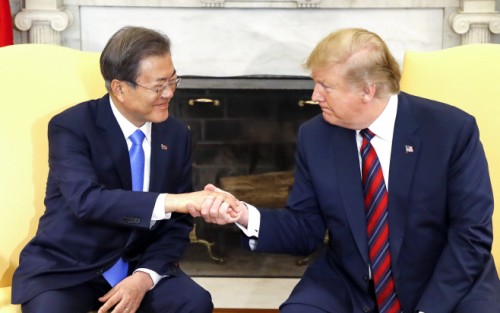 President Moon Jae-in shakes hands with US President Donald Trump at the start of a meeting in the Oval Office at the White House in Washington, U.S., April 11, 2019./ Source: Yonhap News
By AsiaToday reporter Lee Seok-jong
President Moon Jae-in and US President Donald Trump will hold their eighth summit in Seoul late next month.
"Trump will visit South Korea to meet with President Moon Jae-in, in conjunction with his travel to the region to attend the G20 summit in Japan in late June," both the White House and Cheong Wa Dae announced Thursday.
The Moon-Trump summit comes at a time of escalating tensions in US-North Korea relations as North Korea fired a series of short-range projectiles this month. Besides, nuclear negotiations have been stalled since Trump and Kim abruptly ended their summit in Hanoi without reaching any agreements.
While a summit with Moon could have taken place during the G20 summit in Osaka next month, Trump's upcoming Seoul visit to hold a summit with the South Korean President can be seen as a special opportunity to advance denuclearization and peace process on the Korean Peninsula.
In order to achieve substantive progress of denuclearization negotiations at the Trump-Moon summit, an inter-Korean contact will be needed in advance.
At their last summit in Washington last month, Trump asked Moon to share what he learns about the North's position through either an inter-Korean summit or contact with the North. In response, Moon revealed that he would push for an inter-Korean summit soon.
Therefore, in order to confirm Kim's position before Moon meets Trump, it is necessary to contact North Korea in any manner.
"Although the opinions of the leaders of the US and South Korea are not entirely consistent on the North Korean nuclear issue, both Trump and Moon share the idea that US-S. Korea alliance should be managed stably," said Shin Beom-chul, director of the Center for Security and Unification at the Asan Institute for Policy Studies in Seoul. "In this context, Trump-Kim summit will be held in June and the agenda will be discussed during the summit."
"However, South Korea needs to bring North Korea's forward-looking measures through an inter-Korean summit ahead of the upcoming US-S. Korea summit next month in order to draw changes in U.S. position. But North Korea is not giving a response, and it is practically difficult to hold an inter-Korean summit before Trump-Moon summit," he added.