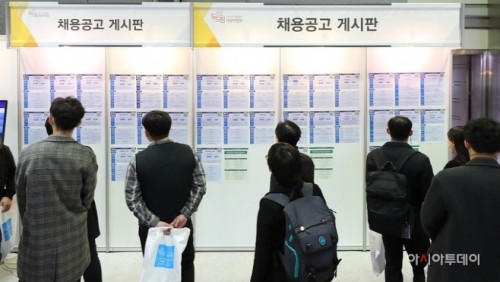 Jobseekers looking at job vacancy boards./ Source: Yonhap News
By AsiaToday reporter Yoo Jae-hee
The unemployment rate reached its highest in 19 years in April. The real unemployment rate for youth surpassed 25 percent, marking the highest level since records began in 2015. It seems precarious employment continues as the number of jobs for people in their 30s and 40s is declining while many younger people are turning to unstable jobs.
The country's unemployment rate was 4.4 percent last month, up 0.3 percentage point on-year, according Statistics Korea on Tuesday. This is the worst April figures since 2000. The increased jobless rate is blamed on a rise in the number of young applicants for state-run civil service exams in cities and provincial authorities, according to Statistics Korea.
The unemployment rate for youth rose to 11.5 percent last month, marking the highest level for any April since 2000. The real jobless rate among the young, including potential jobseekers, rose to 12.4 percent, up 0.9 percentage point from a year ago, and the real jobless rate among those aged 15-29 soared to 25.2 percent, up 1.8 percentage points from the previous year. They are the highest figures since 2015.
The number of unemployed also increased. In April, the number grew 84,000 over the year to 1,245,000. It is the highest ever since records began in 2000.
On the other hand, the number of employed people reached 27.03 million in April, an increase of 171,000 from the same month in 2018. The employment rate for people aged 15-64 stood at 66.5 percent, down 0.1 percentage point from the previous year.
The total number of employed people has increased among young people by 48,000, but the number has decreased among people aged 20-24 by 39,000.
By working hours, the number of people who work less than 17 hours per week increased by 362,000 from a year ago, the highest level since July 1981. This is largely due to the fact that more people in their early 20s are on temporary work contracts, often short-term contracts.
The year-over-year employment among those in their 30s and 40s, who are the backbone of the economically active population, decreased 90,000 and 187,000 each last month. On the other hand, the employment among those in their 50s and 60s expanded by 65,000 and 335,000 each in the month, attributed largely to the government's projects to offer jobs in the public sector for the elderly people.