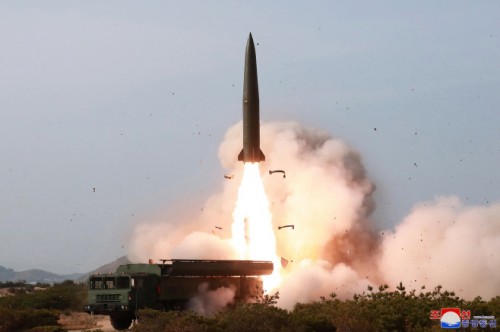 The image, provided by the Korea Central TV Broadcasting Station on May 5, shows a tactical guide weapon test./ Source: Yonhap News
By AsiaToday reporter Lee Seok-jong
North Korea fired what appeared to be two short-range missiles from Kusong in the North Pyongan Province on Thursday, one day before President Moon Jae-in's second anniversary in office. The projectiles splashed into the East Sea.
"North Korea fired two missiles from Kusong in the North Pyongan Province in an easterly direction, one of them at 4:29 p.m. and the other at 4:39 p.m.," said the South's Joint Chiefs of Staff (JCS).
"The suspected missiles flew about 420 kilometers and 270 kilometers, respectively, and reached an altitude of about 50 kilometers," the JCS said. "The South Korean and U.S. intelligence authorities are conducting analysis for additional information."
"Our military has strengthened its surveillance and alertness against possible additional launches from North Korea, while maintaining combat readiness in close coordination with the U.S.," the JCS said.
An official from the JCS said, "We changed the fire location from the Sino-ri area to Kusong because after the first fire, we found the projectile was fired from the Sino-ri area. After the second fire, we found more in detail that the projectiles were from Kusong."
North Korea's launch was just five days after the communist nation fired 240 mm and 300 mm multiple rocket launchers and a new model of a tactical guide weapon.
Kusong is about 40 kilometers north of Sino-ri, a North Korean strategic missile base. North Korea has a base holding Scud-type and Nodong missiles in the Sino-ri area, and it has a missile base in the Kusong area.