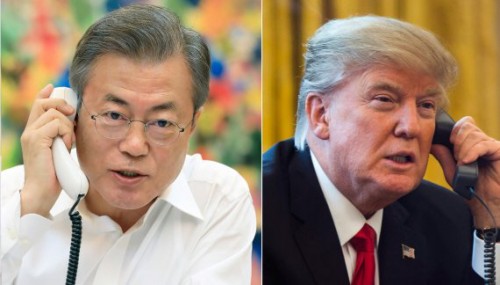 President Moon Jae-in and U.S. President Donald Trump / Source: Cheong Wa Dae, Yonhap News
By AsiaToday reporter Lee Seok-jong
As President Moon Jae-in and US President Donald Trump agreed on possible humanitarian food aid for North Korea in their phone conversation Tuesday night (Seoul time), the interest is focused on whether the issue will help resume inter-Korean and U.S.-North Korea talks.
If South Korea's humanitarian food assistance plan is materialized, many expect that it will serve as a momentum to resume the nuclear negotiations that have been stalled since the Hanoi summit between Trump and Kim Jong-un. It is expected that it can at least help build trust between the two Koreas and even between North Korea and the United States.
Experts say that 'humanitarian food aid' carrot will be able to give North Korean leader Kim Jong-un a cause to return to negotiations.
"It can break the deadlock in nuclear negotiations between the U.S. and North Korea," said former Unification Minister Jeong Se-hyun. "Once it is carried out, dialogue between the two Koreas will reopen, eventually leading to dialogue between the North and the United States."
"Trump mentioned the food aid to Moon in the sense that it could lead to dialogue between North Korea and the United States," Jeong said.
Previously, Trump expressed support for South Korea's humanitarian food assistance for North Korea in phone talks with Moon Tuesday, saying it will be "very timely and a positive step."
Regarding the food assistance, a Cheong Wa Dae official said Wednesday, "We are at a stage of beginning a review of all those matters." The official said nothing has been confirmed.
"It is still too early to talk in detail about the issue, as the government has yet to review the size, format and other specifics," the official said. Whether the assistance will be done through international organizations or will be given directly needs to be discussed later."
As Cheong Wa Dae confirmed its humanitarian food aid for North Korea, the South Korean government is expected to begin full-fledged talks with Stephen Biegun, the U.S. special representative for North Korea, about the food aid.