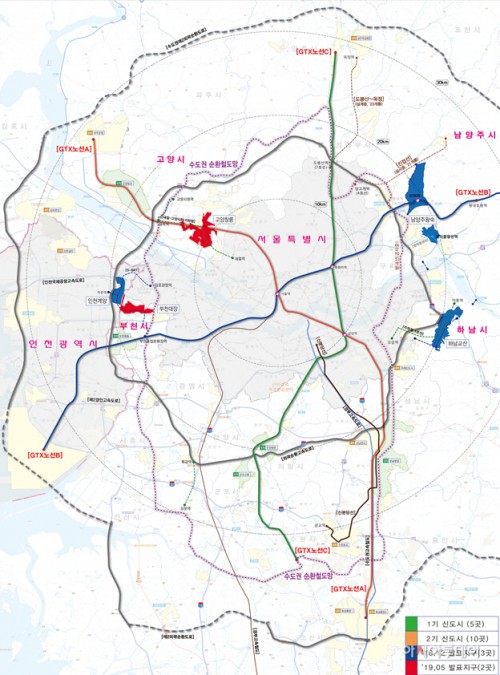 The new towns to be created in the third phase./ Source: The Ministry of Land, Infrastructure and Transport
By AsiaToday reporter Cheong Ah-reum
The two sites in the cities of Goyang and Bucheon have been designated as new towns to be created in the third phase.
The Ministry of Land, Infrastructure and Transport announced Tuesday its third new residential land supply plan as part of its broad plan to provide 300,000 homes in Seoul and adjacent areas to stabilize the housing market.
According to the latest supply plan, 110,000 new homes will be additionally constructed on 28 sites around Seoul and Gyeonggi Province. It includes two Gyeonggi sites in Changneung in Goyang, offering 38,000 homes, and Daejang in Bucheon, providing 20,000 dwellings.
The number of the third-phase new towns has now expanded to six sites, including the four sites announced at the end of last year - Wangsuk in Namyangju, Gyosan in Hanam, Gwacheon in Gwacheon city, and Gyeyang in Incheon. With the latest plan, the government has revealed all the sites for 300,000 "low-priced but quality" homes.
The government designated the two new sites located western Gyeonggi Province to maintain a balance with the sites that have been previously revealed. Both Wangsuk (66,000 homes) in Namyangju and Gyosan (32,000 homes) in Hanam are located in eastern Gyeonggi Province. Gyeyang in Incheon is located in the west, but it plans to supply 17,000 homes.
The government has also confirmed its plan to develop 81 small and medium-sized residential properties to supply 127,279 homes. In Seoul, it plans to carry out a mixed-use project on 19 subway station sites and public sites to offer 10,517 additional homes. As a result, a total of 40,000 homes will be provided in the capital city.
The land ministry designated the five new residential areas – Changneung in Goyang, Daejang in Bucheon, Jangsang in Ansan, Shingil 2 in Ansan, and Dangsoo 2 in Suwon - and six existing residential areas, including Geumto in Seongnam, as Land Trade Authorization Areas in order to prevent market speculation.